Plans to fly captive monkeys halfway around the world to film the new "Pirates of The Caribbean" movie have animal rights groups concerned, and for good reason.
The fifth installment in "Pirates" will film in Queensland, Australia, this summer. That's a long trip from California for the actors, including two capuchin monkeys set to play the role of Jack, a pet belonging to Geoffrey Rush's pirate character Captain Barbossa.
Filming in Queensland means that not only would these monkeys have to spend hours on a stressful international flight, but Australia's laws about exotic animals would require them to remain in crates or inside their specially designed enclosures during their stay in the country, U.K.'s The Guardian reports.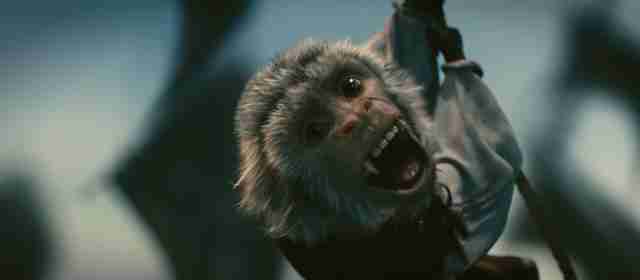 The Australian government hasn't yet approved Disney's application for a permit to bring the monkeys to the country for filming. Several animal rights groups, including The Humane Society International Australia, are asking that the Department of Environment deny the request, arguing that the primates' appearance in the film could hurt their health and boost the illegal wildlife trade, according to The Guardian.
Primates raised for entertainment are often separated from their mothers as babies, which means they don't get the chance to learn how to feed and clean themselves, or socialize properly. Film sets are stressful enough places for humans; imagine how overwhelming they are for captive animals, who are under pressure to perform on tight schedules.
Some major companies, like Volkswagen, Burger King, and Johnson & Johnson, have signed pledges not to use any primates in their advertisements.
Even films that get the "No Animals Were Harmed" stamp from the American Humane Association have turned out to have horrific abuse violations. The safest way to make a movie with exotic animals is not to use them at all. But filmmakers can rest assured that amazing CGI technology makes it possible to make a movie featuring animals without harming a single one.
The Australian government now has the chance to deny the "Pirates" primate permit and tell the entertainment industry that we don't need to mistreat animals to make a great movie.