Dog with melon-sized growth gets new leash on life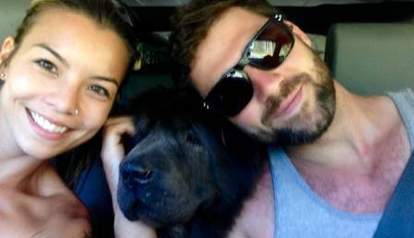 Biggie was in rough shape and in a lot of pain when he was surrendered to an SPCA near Vancouver, Canada, as part of a cruelty investigation.
The six-year-old suffered from eye problems, a painful skin condition and an unsightly melon-sized four-pound growth hanging from his neck that needed to be surgically removed. Donations poured in from around the world to treat and re-home the dog lovingly dubbed "Notorious B.I.G."
But despite being featured on adopt-a-pet segments on local TV stations and a huge social media push with a #NotoriousBIGGIE hashtag, no one was interested in adopting this old soul -- and he spent many months in shelter, ignored.
That is, until Krisann Hamazaki and Arron Csizmadia learned about him though friends and adopted him in March 2015.
Despite his tough former life, Hamazaki says Biggie is now "100-per-cent healthy and happy" in their home in the beach area of Vancouver. He attracts friends wherever he goes (when he's not busy being a grump).
He hit the road all summer with the couple in their Jeep, says Hamazaki.
"He's been busy exploring, fishing, hiking, swimming, camping and digging up gopher holes to keep fit," she says.
The old dog has even learned some new tricks in his new life, including sitting and staying for his dinner and how to roll over - which he does with zeal because it will earn him a belly rub.
Hamazaki says she's noticed a huge difference since Biggie was plucked from the shelter, a true measure of how resilient rescue pups can be.
"He's doing great and we're all very happy," she says.