Sheep Rescued From Nightmare Farm Gives Rescuers The Sweetest Surprise
"We're all overjoyed to see this wee tiny little boy come into the world after such horror and hardship that his mom lived through."
If Cleo the sheep hadn't been rescued, she'd probably be dead by now. But thankfully, people were able to save her - and a surprise arrival who came just in time.
Cleo was rescued from a farm in Westport, Massachusetts, in what's been referred to as one of the worst animal abuse cases in the United States. More than 1,000 animals - including sheep, cows, pigs, chickens, dogs, cats and chickens - were kept in deplorable conditions at the 70-acre farm.
The ASPCA led a rescue operation that took several days and involved over 45 people, and cost hundreds of thousands of dollars. Kelly Mullins, the animal care director for Catskill Animal Sanctuary, was there to assist the ASPCA as the group evacuated as many animals as possible.
"There were dilapidated sheds, and there was garbage everywhere," Mullins told The Dodo. "It smelled horribly. There was rotting food. There were not a lot of safe areas for the animals to go into coverage from the rain or the weather conditions. The fencing was made of discarded appliances, pieces of fencing next to old boats. A lot of the animals were very malnourished."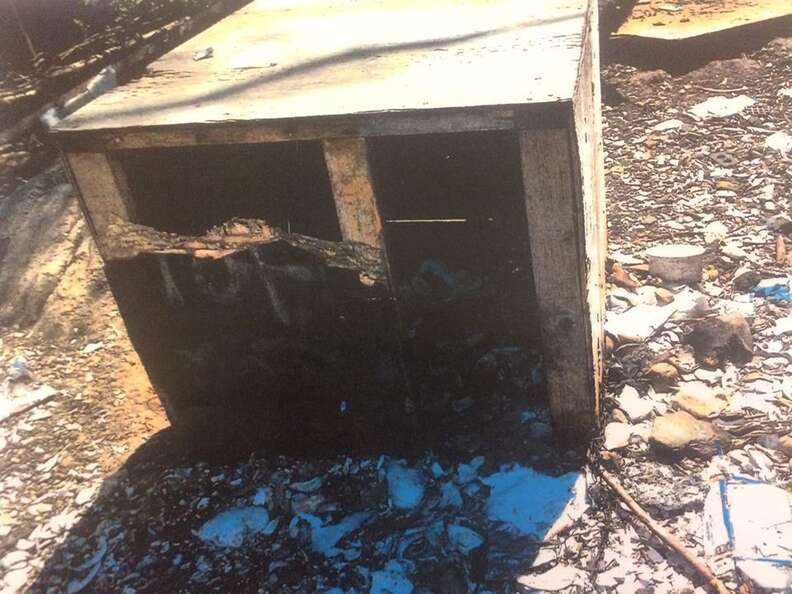 For some animals, the rescuers had arrived too late. "There were a lot of dead bodies and bones," Mullins said. "It's always shocking to see anything like that because no matter how long you're involved with rescue of animals, it's still impossible to believe that anyone would treat any animal this way."
The ASPCA arranged for the animals to be transported to different sanctuaries and refuges in the area. Catskill Animal Sanctuary took in 130 animals, including Cleo the sheep.
Like most of the animals rescued from the Westport farm, Cleo was malnourished and underweight. But she quickly started filling out, and the sanctuary team began to suspect that Cleo might be pregnant. When Cleo's udders became full, their suspicions were confirmed.
On Monday, the night before Cleo's baby was born, Kellie Myers, the healthcare coordinator for Catskill Animal Sanctuary, took Cleo into the infirmary, knowing her time was close. Then Cleo went into labor.
"She exhibited all the signs - pacing, lying down and then getting up, then lying down and getting up, and having contractions," Mullins said. "But when no baby arrived by 4 the next morning, I called the vet, fearing something was wrong. She'd been in labor for too long."
They rushed Cleo to the Hurley Veterinary Hospital in Hurley, New York. There, a vet named Dr. Gillian Ferguson helped Cleo deliver two lambs - twins. Unfortunately, the first lamb was stillborn. They initially thought the second lamb was stillborn, too. Then the lamb twitched.
"Dr. Ferguson said, 'Oh my god! He's alive!'" Mullins said. "And she started working on him again, and he started breathing and he started making noise."
The sanctuary team named the newborn lamb Ferguson after the vet who'd saved his life, and probably his mother's life as well.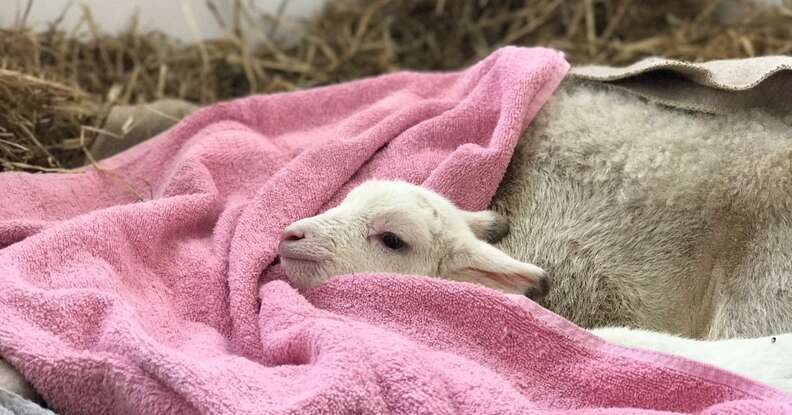 Cleo and Ferguson are now back at the sanctuary, although they're staying inside the infirmary while Ferguson is still young.
Mom and baby are both doing well, according to Mullins. "She's a pretty chilled-out and relaxed mom," Mullins said. "And Ferguson's gained weight."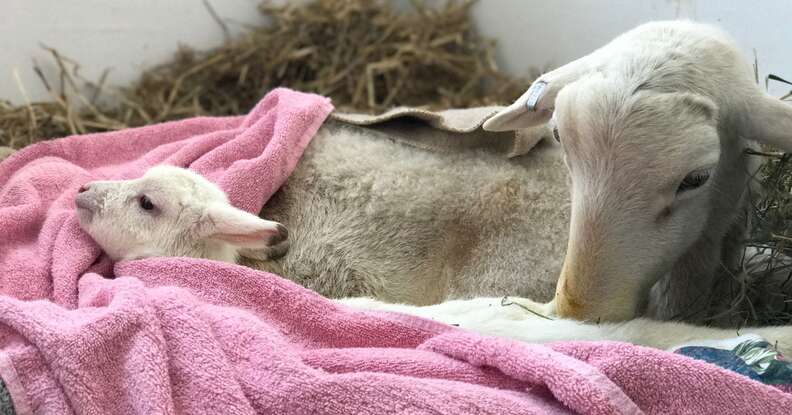 "We're all overjoyed to see this wee tiny little boy come into the world after such horror and hardship that his mom lived through, and to now be able to offer them both a safe and happy home for the rest of their lives," Mullins added. "It gets us out of bed in the morning and gets us going - that we can at least give them something good."
To help Catskill Animal Sanctuary care for Cleo and Ferguson, and more animals like them, you can make a donation here. You can also sign this petition calling on officials to shut down the Westport farm forever.