New York Times Runs Ad Calling For End To Taiji's Dolphin Hunt
Activists ran an ad in the New York Times on Thursday, calling for an end to the brutal dolphin hunts that have been going on in Taiji, Japan. The ad features a photo of the baby albino dolphin, dubbed "Angel" captured in the cove four weeks ago who is now being held in an aquarium in Taiji.
The ad was placed by the Dolphin Project, a project of the Earth Island Institute run by Ric O'Barry, an activist and former trainer who appeared in the Oscar-winning film about the dolphin hunt, "The Cove." It directs through the Dolphin Project's website to send a letter to Japan's Prime Minister, Shinzo Abe, urging him to end the hunt.
"The Japanese government has no excuse for these cruel and needless dolphin slaughters," said David Phillips, Executive Director of Earth Island Institute. "Japan is badly damaging its international standing and support around the world. Even in Japan, the vast majority of Japanese do not eat dolphin or whale meat and have no interest in it."
Ric O'Barry also posted a picture of Angel to his Instagram: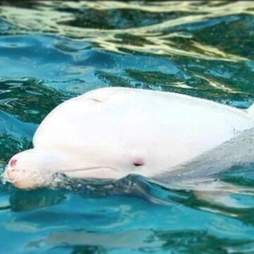 ACTION GUIDE: Taiji Dolphin Slaughter
Dolphin roundups and slaughter -- brought powerfully to the public's imagination by the Oscar-winning documentary "The Cove" -- happen every year in Japan. You can sign our petition to end the brutal hunt here. You can also visit Sea Shepherd's site to learn more about the problem -- the organization has many ways you can help, from volunteering to simply spreading the word on Facebook and Twitter. Sea Shepherd also encourages concerned citizens to call and write to the authorities in Taiji as well as the Japanese Embassy in your country, the U.S. Embassy to Japan, U.S. and Japanese Ambassadors to the UN and the U.S. Senate members of the Committee on Foreign Relations, among others -- all of their contact information is on this page. Another group involved in the issue is Earth Island Institute's Save Japan Dolphins.