Officials with New York's Department of Environmental Conservation (DEC) have announced a controversial plan to cull mute swans in the state, drawing angry backlash from birdwatchers and others. The draft plan, announced last week, calls for shooting the birds and destroying their eggs in order to bring their numbers -- now at about 2,200 -- under control.
The DEC maintains that the plan targets "a non-native, invasive species, brought to North America from Eurasia for ornamental purposes in the late 1800s," and says that the goal is to protect other native bird species in the state. They also say that swans exhibit aggressive behavior toward people and other birds, disrupt natural vegetation, push out wild fauna and can potentially endanger airplanes if they get sucked into engines. It's a complicated issue -- wildlife biologists say that the animals disrupt natural environments and should be culled to make way for the species that were originally there. But animal activists argue that shooting them is inhumane -- and that the swans, by right of living on the land for over a century, have just as much right to live there as other species.
The plan involves a proposal to incorporate hunting in the cull -- a scheme that has rattled opponents. Already a petition has sprung up against the plan, calling it cruel and demanding the birds' protection. The petition, hosted by Change.org, has over 18,000 signatures so far.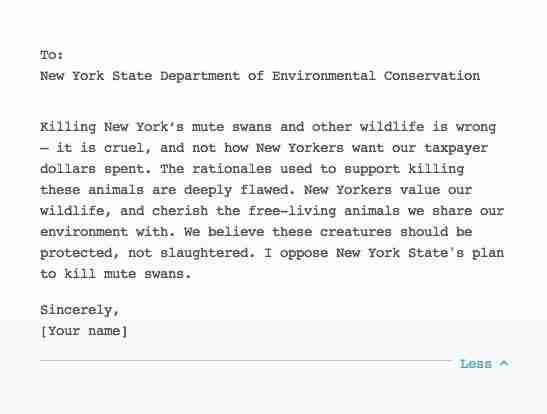 GooseWatch NYC, which posted the petition, writes of the DEC: "Its plan to utterly eliminate this majestic creature from the face of its land reflects an agency that has lost touch with its core mission as well as with the greater voices to which it must ultimately answer."
And, the good news is there's still time to weigh in.
"We've been getting a lot of comments on the plan," DEC spokeswoman Lori Severino told AP. "It's a draft plan, and we're encouraging public comments."