A wild orca family that was depleted by SeaWorld has a tiny new arrival.
The Southern Residents, a group of whales that lives off the Northwest Pacific Coast, have welcomed a new calf, the Center for Whale Research (CWR) announced on Saturday. The orca family has been struggling ever since losing a generation of calves to SeaWorld and other marine parks several decades ago, and the news could indicate a turnaround in their ongoing population struggles.
The new calf, L123, and its mother, L103.Center for Whale Research
The calf is the seventh born in the past year after a long stretch of negligible birth rates; no calfs from 2013 or 2014 are still alive. The mother orca, L103, is 12 years old and believed to be a first-time mother. She belongs to the L pod, one of the three subgroups that make up the Southern Residents. The baby, who was first documented in early November, is known as L123.
The Southern Residents were decimated in the 1960s and 1970s by SeaWorld and other marine parks who captured an entire generation of orca calves for use in captivity. Only one of the kidnapped babies is still alive: Lolita, who was captured at age 4 and has spent the past 45 years at the Miami Seaquarium in the smallest orca tank in America while her family survives off the Washington coast.
The calf's mother, L103.Center for Whale Research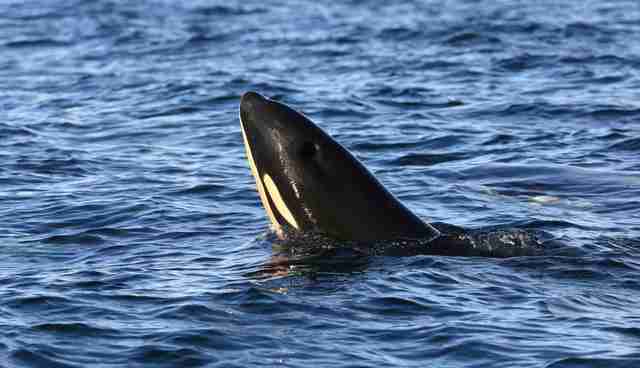 The Southern Residents began to make up the loss of the babies in the years after the captures, but experienced a second population drop when the stolen babies would have come of breeding age. The Southern Residents have faced a slew of new threats, in particular a series of dams cutting them off from Chinook salmon, their staple food. They're currently endangered.
Which makes this latest calf all the more exceptional. Yet even as researchers hope that the new birth could indicate a turning point for the struggling orca population, they warn that it also makes it more crucial than ever to address the threats facing the whale family.
The calf's mother, L103.Center for Whale Research
"While a new calf born to this struggling population is certainly cause to celebrate, it is important to remember that another SRKW [Southern Resident killer whale] also means another mouth to feed," CWR said in a press release. "With each new calf that is born, we continue to emphasize the need to focus on wild Chinook salmon restoration efforts. Especially the removal of obsolete dams that block wild salmon from their natalspawning habitat, such as those on the lower Snake River."
If you'd like to help, you can sign this petition calling on officials to remove the dams blocking the orcas from their food sources. You can also make a donation to CWR.