In a surprise discovery made this week, whale researchers in the Pacific Northwest have made the first sighting of an adorable new arrival - a newborn orca calf swimming healthy and free alongside her mother and sister in the waters of the Pacific Northwest.
"We're elated. It's a real encouragement to see a new baby," Orca Network co-director Howard Garrett told The Dodo. "The calf is just a couple of days old. It had wrinkles on its back, behind the blowhole, indicating that it's a newborn from the last two or three days."
Garrett says that both the calf and her mother, known as Slick, appear to be in good health. The unexpected birth is made all the more remarkable considering Slick's age - at 43 years old, she was thought to be beyond reproductive age. In fact, she's now become the oldest new orca mother ever documented.
But the very special delivery isn't just raising spirits - it's raising hopes as well.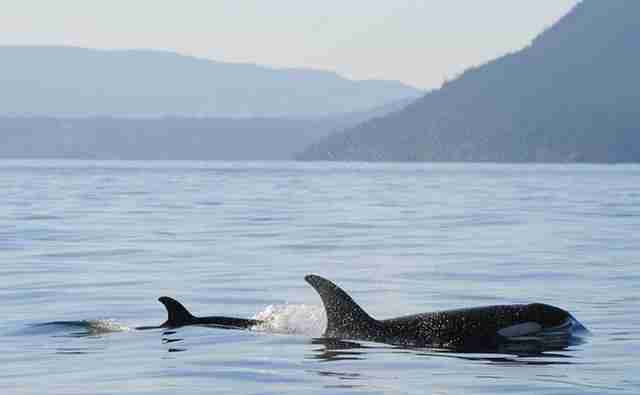 The calf, dubbed J50, belongs to a group of Southern Resident killer whales, the most well-studied - and most endangered - orcas. Just in the last few months, the pod suffered several tragic losses which, researchers feared, put their existence in jeopardy.
"There was a baby born on September 6, but it did not last more than a month," says Garrett. "And then there was one that was not quite born, and the mother also died. She was a 19-year-old, and she washed up dead with a full term fetus in early December. That was a big loss."
Those deaths reduced the orcas' numbers to just 77, down from around 200 in the 1800s. Thankfully, that number has risen once again, and researchers are hoping it will keep growing higher - but there's no guarantee.
The main contributor to the Southern Resident killer whales' decline is a lack of sufficient Chinook salmon, the pod's primary prey. Populations of Chinook are endangered from California to Alaska due to various human-induced and natural factors, leading to nutritional stress among orcas which limits their ability to reproduce.
Even with that aside, the first year of life is the most precarious for a young killer whale, says Garrett, but he's cautiously optimistic that the newborn will pull through - especially since it means so much in light of recent setbacks.
"This birth is encouraging, and we needed encouragement. People are really hanging on to this baby. There are many, many well-wishers, and we're among them," says Garrett. We're very excited and hoping for the best. There's a lot riding on this little baby. It would be very devastating to lose this one."