New hope for long lost frogs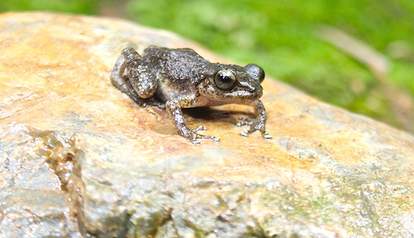 <p> © Zoological Society of Philadelphia/photo by Dr. Carlos C. Martinez Rivera </p> <br>
Last September, the Philadelphia Zoo found the Tiburón stream frog while searching for frogs in one of the last patches of forests left in Haiti. This frog was feared extinct until its rediscovery in 2012 by evolutionary biologists Dr. Blair Hedges and the team from Societé Audubon Haiti at Grand Bois in the Massif de la Hotte in Haiti.
With support from the Critical Ecosystem Partnership Fund (CEPF) through our investment in the Caribbean Islands biodiversity hotspot, the Philadelphia Zoo is building local management capacity and conservation plans to save Endangered frogs in four high priority key biodiversity areas in Hispaniola.
In close coordination with sub-grantees Société Audubon in Haiti and Grupo Jaragua in the Dominican Republic, the Philadelphia Zoo is strengthening the technical capacity of 50 local conservationists and community members, establishing a bi-national network of 17 institutions, conducting baseline ecological field work (including determination of the presence of chytrid fungus), developing site-based amphibian management guidelines, and conducting relevant environmental education for communities and the general public.
Read more about the recent discovery of the Tiburón stream frog.
Established in 2000, the Critical Ecosystem Partnership Fund (CEPF) is a global leader in enabling civil society to participate in and influence the conservation of some of the world's most critical ecosystems. CEPF is a joint initiative of l'Agence Française de Développement (AFD), Conservation International, the Global Environment Facility (GEF), the Government of Japan, the John D. and Catherine T. MacArthur Foundation, and the World Bank. CEPF is unique among funding mechanisms in that it focuses on high-priority biological areas rather than political boundaries and examines conservation threats on a landscape scale. From this perspective, CEPF seeks to identify and support a regional, rather than a national, approach to achieving conservation outcomes and engages a wide range of public and private institutions to address conservation needs through coordinated regional efforts.