Turtles have been on Earth for at least 120 million years. Considering that humans have only been around for 200,000 years and the iPhone is just over 8 years old, turtles have had a lot of time to evolve in unbelievable ways.
Victor Leshyk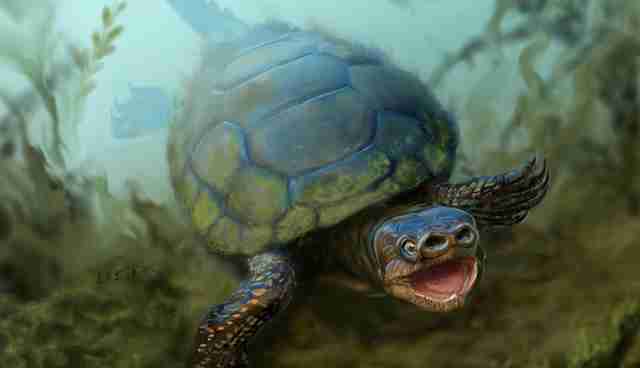 Creating the above image wasn't easy: It required a combination of rigorous scientific research and artistic vision.
Vimeo/The University of Utah
Yep, that's not a photo - it's a painting created by the paleoartist Victor Leshyk, who was enlisted by the paleontology team at the pig-snouted-turtle-unearthed-in-utah/">76-million-year-old-extinct-species-of-pig-snouted-turtle-unearthed-in-utah/">University of Utah and the Natural History Museum of Utah to bring life to the extinct, 76-million-year-old species with a "pig-snouted" nose.
"A primary starting point is always 'fleshing out' an animal," Leshyk, whose name you can find buried in the murky depths of the painting, tells The Dodo.
Natural History Museum of Utah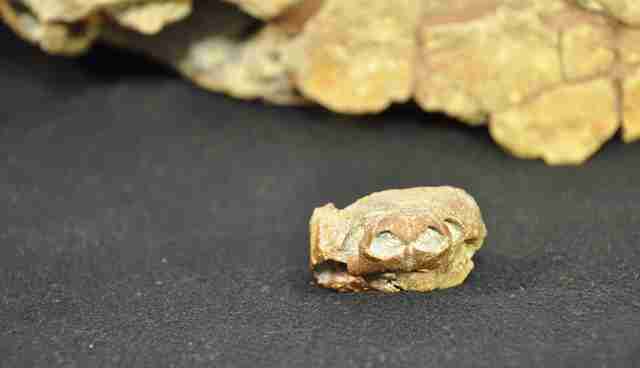 Measuring 2 feet from head to tail, the set of bones included an entire skull, most of the shell, complete legs and a very oddly shaped nose, which is the species' defining feature.
What makes the nose unique is its "separate bone-rimmed openings pointing forward like a double-barrelled shotgun, where all other turtles have just a single little central hole, like the nasal area in a human skull," says Leshyk, who went through great lengths to research the best way to display the turtle's peculiarity in his painting.
"Building final portraits from bone evidence is very much like an actor creating a character based on a biography," Leshyk explains.
Victor Leshyk
"You try to make a final form that would plausibly reflect a likely lifestyle and environment for the creature as a working whole," he says. Leshyk also notes that he included "lush weeds and fallen branches" to reflect the swampy nature of the Cretaceous environment.
Even the turtle's expression is the result of meticulous thought and consideration. "I painted the mouth open in a hiss of surprise much as modern snappers might gape when annoyed or confronted," says Leshyk.
"As always, scientific art is a balance of aesthetics and accuracy," Leshyk says. "The look must be captivating enough to inspire more thinking, but it must inform accurately so any insights are worthwhile."
The Natural History Museum of Utah/ Victor Leshyk
Since the research team released the study in mid-October, Leshyk's illustration has reached masses after being featured in several national news outlets, including the Washington Post, USA Today and Discovery News.