Nepal Announces Second Poaching-Free Year
Just in time for World Wildlife Day, Nepal has announced that all of its wild animals were safe from poaching last year -- marking two years with zero poaching in the country. Increased enforcement and protection programs, led by the government, contributed to the success.
"The success of achieving zero poaching throughout the year is a huge achievement and a result of prioritizing a national need to curb wildlife crimes in the country," stated Megh Bahadur Pandey, Director General of Nepal's Department of National Parks and Wildlife Conservation. "A national level commitment is key to encouraging complementing efforts, right down to the grassroots level, in order to address this biggest threat to wildlife not just in Nepal but across the world."
Nepal is home to many iconic species, like the Nepalese snow leopard:
The danphe, the country's national bird: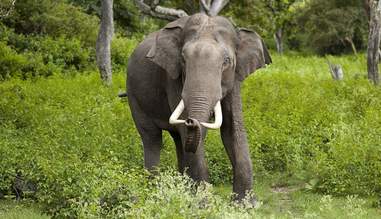 To participate in World Wildlife Day, use #WorldWildlifeDay on Twitter, Facebook or Instagram and share a photo of wildlife or a message about why this issue matters to you. We'll highlight our favorite contributions below.