Neglected Pit Bull Transforms Into Stock Photo Celebrity
As a pet photographer and owner of A Dog's Life Photography, I've made many four-legged friends over the years. Every animal that has come through my studio has left a paw print on my heart. Some have managed to make a much deeper imprint.
Meet Destiny...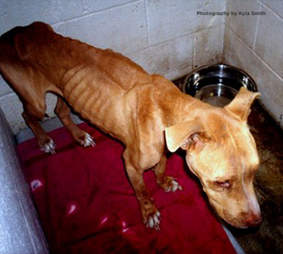 Destiny was a victim of cruel neglect at the hands of her owner. At the time that the Humane Society of Yuma rescued her, she was near death. Suffering from extreme malnutrition and pneumonia, she was not expected to survive.
Mayday Pit Bull Rescue was contacted for assistance. The kind-hearted volunteers at their organization took her into their foster care.
Mayday worked tirelessly to nurse Destiny back to health. Through high doses of antibiotics, breathing treatments and feedings every two hours, things started looking up. She was making a great recovery.
At the time that I met Destiny, I was putting together a book called "Tails of Rescue, a guide to finding the not so perfect dog that is perfect for you", which contains stories of dogs that were saved by Phoenix area rescue groups from extreme situations of abuse and neglect. Destiny was not only featured in my book, she also went on to become a star. Through my rescue group photo program, I provide complimentary photos of animals in need of homes for their adoption ads. To fund this program, I license the images as stock photography. Destiny's stock photos can be seen around the world on pet products and publications, such as this book on American Pit Bull Terriers by Animal Planet.
Destiny's story has a fairy tale ending. Not only is she now a famous model, she has been adopted by a wonderful family that provides her with all of the love, affection and attention that she so greatly deserves. Please help animals like Destiny to find their fur-ever homes by supporting your local animal rescue community.
Does your shelter have a great story to tell? We want to hear it. Join The Dodo community and share your rescue tale. Have questions? Write to community@thedodo.com.