When Mona Lisa (Mona for short) first came to the Second Chance Rescue Organization, she was very near death.
The poor pup was found in a backyard in the Bronx, barely even able to walk. Severely neglected and emaciated, Mona was the very definition of someone in need of a second chance.
"When Mona came to us in December, she was literally skin and bones," Kelcy Kimmerer, an emergency transporter and special projects coordinator at Second Chance Rescue, told The Dodo. "You could see her spine. You could see every rib. She had a hard time standing up. She had a hard time walking."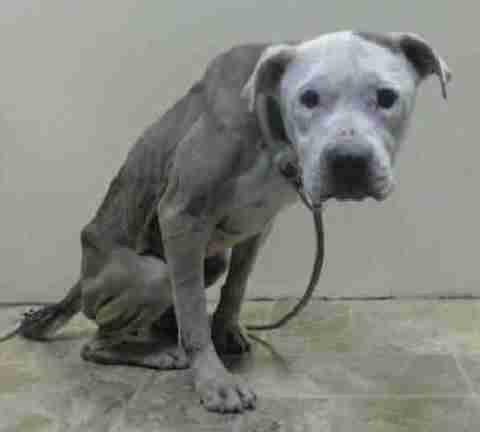 Despite having been severely abused and neglected, Mona was very receptive to her rescuers, as if she knew they were there to help. "We put her in the car and I sat in the back with her," Kimmerer said. "I was hugging her and I had tears streaming down my face. Despite the despair, her heart was still so warm and she was so receptive to my touch and love."
It took nearly two months for Mona to regain her strength, but now she is the most active dog around. She loves kids and is respectful and patient with other dogs. Mona is amazingly affectionate, despite her shaky history.
Mona has scars all over her front legs from her past, and yet nothing else about her would suggest what she's been through. Mona is ready for a fresh start, and is looking for the perfect home to give her this second chance.
"Mona has never been anything but sweet to people," a member of Mona's foster family, Will Conrad, told The Dodo. "Despite her past, she has never shown any aggression. Ever. Quite the opposite. She is a leaner. She'll just come over to you and lean against you, hoping for a rub."
"I don't know what happened to her in the past," Conrad said, "But in the future she deserves the absolute best."
Mona is a fighter. With a little help and a lot of love, Mona has been able to make a full recovery. She is now ready to make the final step in her journey - finding a forever home.
If you or someone you know would like to adopt Mona, or another rescue dog, contact Second Chance Rescue to add one of these amazing dogs to your family.