People Give Rescued Elephant The Sweetest Goodbye
"You are now free, old girl."
For decades, Nam Phon's life was full of hardship - but she ended it in the best possible place.
Last weekend, Nam Phon, a 55-plus-year-old Asian elephant, passed away at Wildlife Friends Foundation Thailand (WFFT), the sanctuary where she had finally felt peace after being rescued from years of backbreaking labor. Since arriving at WFFT last spring, Nam Phon had become something of a figurehead for the herd of rescued elephants.
Nam Phon first arriving at the sanctuary after her rescue

| Wildlife Friends Foundation Thailand
"Nam Phon's trusting nature and calm demeanor enlightened the lives of many," WFFT said in a statement. "She experienced more freedom on [the] last few months of her life than ever before. She wandered the forests around the WFFT Elephant Refuge freely, doing as she pleased, like a big diva, often ignoring the commands of her caring mahout Aek."
Nam Phon playing during water therapy

| Wildlife Friends Foundation Thailand
But unfortunately, Nam Phon's age and hard life caught up with her, and she gently passed away earlier this month. But WFFT wasn't about to let her go without a proper farewell.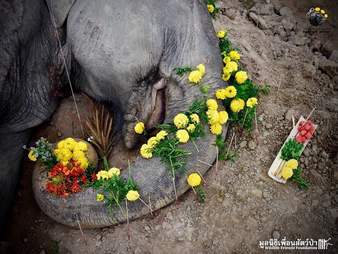 Wildlife Friends Foundation Thailand
The sanctuary held a funeral for her, laying her body out and covering it in flowers, leaving a gift of fruit near her head. With several monks leading the service, the team gathered around to say one final goodbye.
Wildlife Friends Foundation Thailand
While Nam Phon ended her life at peace, her life was symbolic of the struggles many captive Asian elephants undergo. She was born into the wild in the 1950s, but stolen from her family to be used in the logging industry when she was just a calf. She likely underwent the infamous training "crush" process, which crushes young wild elephants' spirits so they're more easy to handle, before being sent to work.
Wildlife Friends Foundation Thailand
"She spent decades being forced to destroy her own habitat," WFFT said. "During this time it is likely that she gave birth to her own calves which were subsequently taken from her."
When the logging industry was banned from using elephants in the late 1980s, many elephants were forced to roam the streets begging for food. But as the tourist industry grew, many of them, like Nam Phon, were forced into giving elephant rides and performing.
Wildlife Friends Foundation Thailand
For 30 years she was forced to serve tourists, "being moved from camp to camp, giving rides to tourists until she could no more," WFFT wrote.
Wildlife Friends Foundation Thailand
At one point, Nam Phon's owner agreed to give her up to the WFFT elephant refuge, and she has a six-year respite from giving rides. But in 2010, he decided to take her away from the sanctuary and force her back into work.
Finally, in March 2016, Nam Phon returned to the sanctuary for good after lengthy negotiations with her owner - and was greeted by two of her friends from her previous stay at the sanctuary, who remembered her all those years later. She also became fast friends with another elephant, Jele, whom she loved to "hold hands" with with her trunk.
Nam Phon and Jele "holding hands"

| Wildlife Friends Foundation Thailand
WFFT said Nam Phon left a lasting legacy behind her - not only at the sanctuary, but for elephants around the world. "She inspired us and the many people who met her to strive for a better future for over 3000 elephants that still languish in captive environments throughout Thailand," the rescue group said. "She gave us hope to continue to fight for their freedom, the years of abuse she had endured never dulled her light."
Wildlife Friends Foundation Thailand
And her rescuers left their beloved elephant with the sweetest message.
"After years of abuse at the hands of humans you are now free, old girl," WFFT wrote. "You will be remembered as much a victim of the captive elephant industry, as you are a shining beacon of hope for the many other elephants still in need of help. She has left this world and moved to another - her spirit is now free."
Wildlife Friends Foundation Thailand
To help WFFT rescue more elephants like Nam Phon - and care for her friends at the sanctuary - you can make a donation here.