People Dump Boxes Of Kittens At Shelter In The Middle Of The Night
All 34 of them will need forever homes.
Security camera footage shows a van stopping in a parking lot under the cover of night. Three people get out of the van and begin unloading box after box after box.
Inside - as shelter workers at the Marin Humane Society (MHS) in California would discover the next morning - were 34 young cats and tiny kittens.
And, incredibly enough, this isn't the first time. This is actually the fifth time in the past four years a large group of cats and kittens has been dumped in boxes outside the shelter in the middle of the night. Shelter workers believe the same anonymous people are responsible for this latest abandonment.
"Staff quickly realized this group of cats and kittens was related to the previous ones as most are black and white 'tuxedo' cats," MHS said in a release. "In total, more than 130 of these cats have been abandoned at the shelter over the last four years. None appear to have been spayed or neutered."
The kittens appear to be the results of irresponsible breeding, according to MHS.
"While we're grateful the kitties are safe with us, we want to find out who's responsible for the overbreeding so we can offer assistance - for any cats remaining and for the people involved," Lisa Bloch, a spokesperson for MHS, said.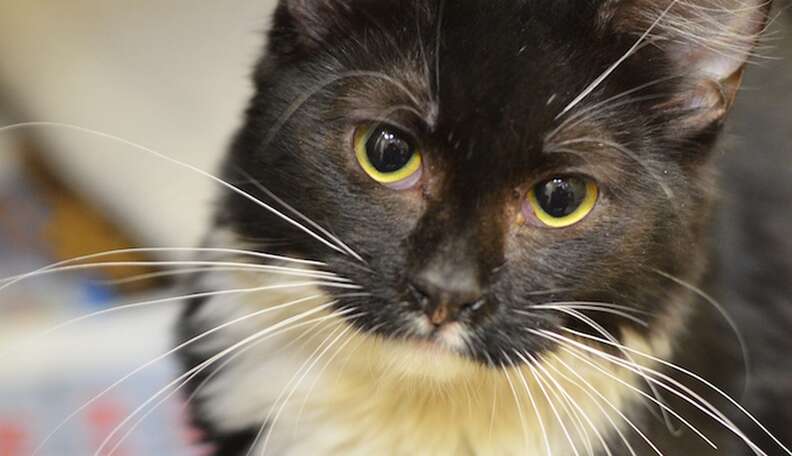 Now shelter workers are busy vaccinating, microchipping, spaying and neutering the 34 newcomers, to get them ready for adoption. This can cost the shelter at least $500 per cat.
Not only that, the shelter is already very full. "Since we had 130 cats and kittens already in our care, we're hoping people will adopt the ones available now," Bloch told The Dodo. To help alleviate the overcrowding, MHS is waiving the adoption fee for all adult cats until the end of September.