Mystery Hero Rushes Into Burning Home To Save Dog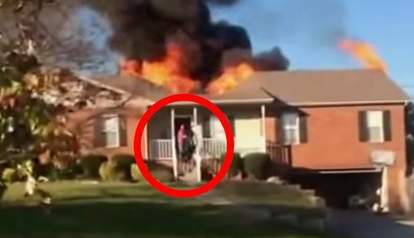 <p> <a href="https://www.youtube.com/watch?v=2B5FEsYOUDA">YouTube/AliciaThomas</a><span></span> </p>
Concerned neighbors gathered around a devastating house fire in White House, Tennessee, on Saturday - there was a terrified dog trapped inside the blaze, but no one knew how to get him to safety.
Until a mystery hero showed up, and, without a moment's hesitation, rushed in to save the dog.
"This guy in a gray Mustang pulls up, says, 'I do this for a living,' and he runs in and he comes out about two minutes later with this beautiful dog in his arms, and it was incredible to see," Jimmy Nichols, a neighbor who caught the whole thing on video, told local outlet WSMV.
The heroic stranger emerged from the home just as the roof was collapsing in on itself, carrying the scared dog wrapped up in a blanket. He left the dog in the care of neighbors and rode away, never leaving a name or a clue about who he was.
The community told local outlets that they want to be able to thank the stranger. Without his bravery and quick thinking, this family would have lost not only their home, but a beloved family member as well.
Watch the whole rescue video here: