Someone Else Anonymously Gave Thousands Of Dollars To This Animal Shelter
It happened again - and we couldn't be happier.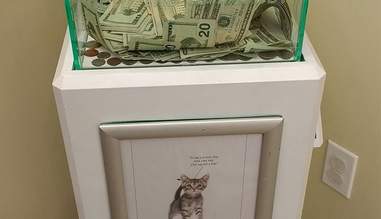 PASADENA HUMANE SOCIETY & SPCA
Last week, staffers at the Pasadena Humane Society & SPCA, in California, were thrilled to be the beneficiary of some person's remarkable act of charity. Without anyone noticing, the mystery donor had walked in and dropped $8,000 in cash inside the shelter's donation box - money that will go a long way to helping the animals under their care.
Well, that huge gift just inspired another anonymous donor to do the same.
On Tuesday, shelter workers discovered even more money dropped inside their donation box - $2,000 in cash. According to an accompanying note, that person was inspired by the big gift left last week, and a deep love for pets he or she will likely never meet.
"Please save the animals," it read. "For some of us it's all we have left."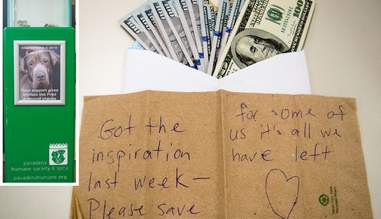 PASADENA HUMANE SOCIETY & SPCA
Again, staff at the facility was taken aback by the generosity.
"Thank you for helping us rescue and care for all the animals that come to us in need," they wrote online.
We're thrilled to see this sort of big giving is catching on, though donations of any amount are just as commendable. Folks who may not have money to give can always help out too, through volunteering at an animal shelter or becoming a foster parent to a pet in need.