On a recent trip to Myanmar, my girlfriend Jennifer and I visited the Yangon Animal Shelter. It is one of the few shelters in the country, and is currently home to 500 dogs.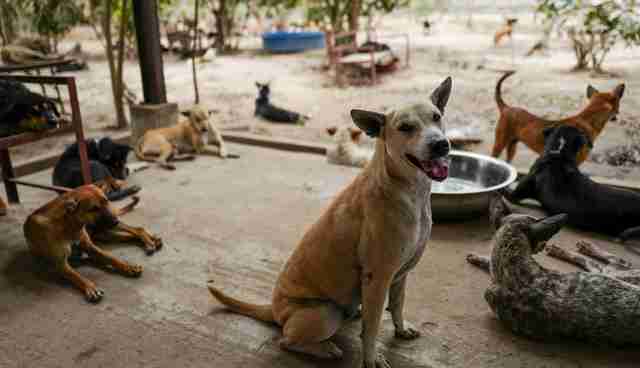 The shelter was founded in 2012 by Terryl Just, an American teacher at the International School Yangon. She started the shelter after finding a stray dog she knew dead in the street.
"I had been feeding a stray dog for a year," she told The Dodo. "Then one day I found her poisoned. I felt like I had to do something."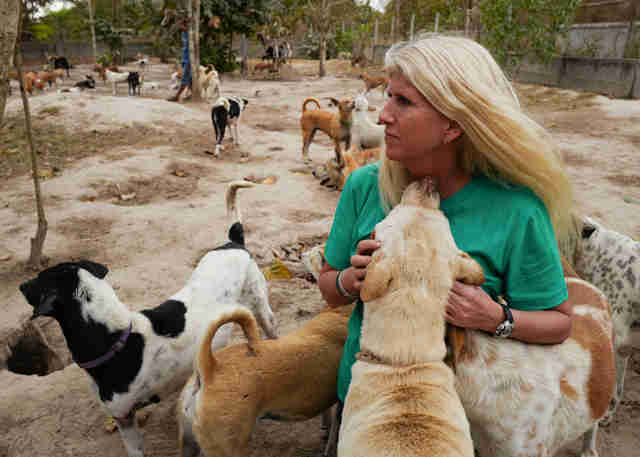 As in many countries around the world, the poisoning of street dogs is a common practice to control the homeless dog population. Due to an increase of tourism to Myanmar, these poisonings have reportedly been on the increase.
We first visited the adult dog section, a large, open enclosure allowing the dogs to roam freely. As we stepped through the gate we were instantly surrounded by a sea of dogs.
They ran around our feet, jumping and barking, all clamoring for attention. At first it was a little intimidating walking as strangers amidst 500 off-leash dogs, but after about 10 minutes the dogs calmed down and we walked freely through the group.
Several feet away a pack of dogs had also surrounded Terryl. She hugged and greeted each dog by name as they jumped around her, eagerly pushing for a turn to lick her face.
"With 500 dogs not in cages it can get a bit crazy," she told us. "There will be a lot of barking in the beginning, but then they calm down."
After spending some time visiting the adult dogs, we walked over to a separate compound for the puppies. We had arrived during feeding time, and were amused to watch a parade of hungry puppies anxiously following their caretaker for the next meal.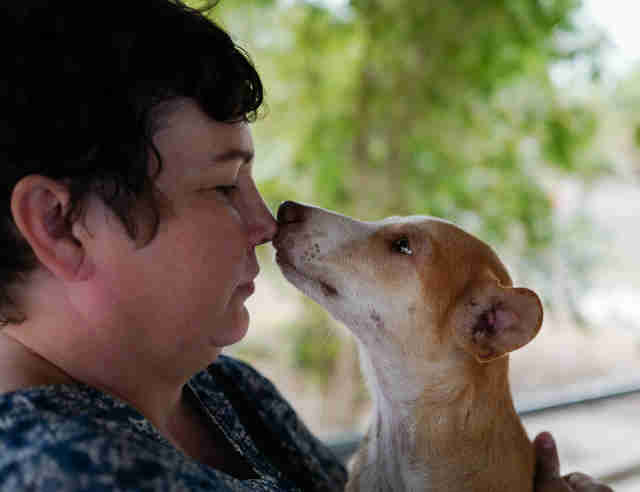 As I photographed the puppies, Jennifer kept busy cuddling and playing with them. She was especially attracted to Bowie and Iman, two young siblings with sweet personalities and light-color eyes.
"A Scandinavian couple was interested in taking them," Terryl said. "But they didn't like the color of their eyes."
Still playing with the young pups, Jennifer looked puzzled: "Their eyes are beautiful," she said. "That's what I like about them."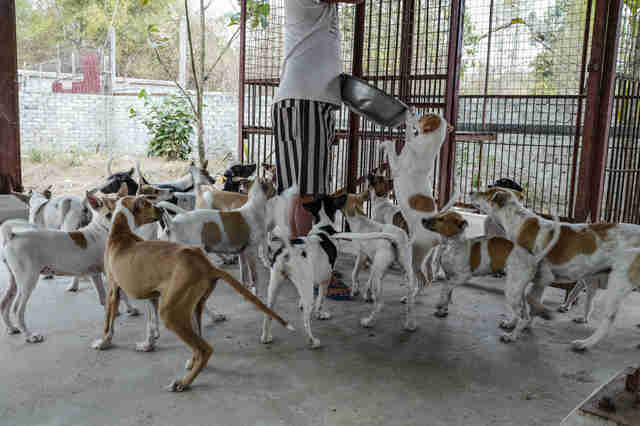 Both Bowie and Iman loved to be held and cuddled, but Iman seemed the more energetic of the pair. She ran around playfully chasing other dogs, and at one point almost knocked the food bowl out of her caretaker's hands.
"These pups are very special," Terryl said. They were the only survivors of a litter of five.
"The pups' mother, Suzy, was rescued from severe flooding affecting parts of Myanmar in the fall of 2015," she added. "She was brought back to the shelter and quickly became a favorite due to her sweet personality."
Sadly, she died six days after giving birth, most likely from a heart problem. A foster mom nursed the puppies, but only Bowie and Iman pulled through.
After arriving back at our hotel in Myanmar, we decided to rescue two puppies from the shelter and send them back to the U.S. for adoption. Our living situation precluded us from adopting the dogs ourselves, but Jennifer in particular felt like we had to do something.
With about 30 adorable puppies at the shelter, it was a heart-wrenching decision, but Jennifer had already made up her mind which two puppies we would chose - Bowie and Iman.
To help us find the pups forever homes in the U.S., I contacted Galit Reuben, the director of the Los Angeles rescue group Dogs Without Borders. She graciously agreed to accept the dogs from Myanmar and place them in the group's weekly adoption fairs. As a regular volunteer photographer for the group, I knew the pups would be in good hands.
On March 10, 2016, after weeks of preparation and planning, Bowie and Iman arrived in L.A. accompanied by Natalie Mathiasen, a volunteer from the shelter in Myanmar.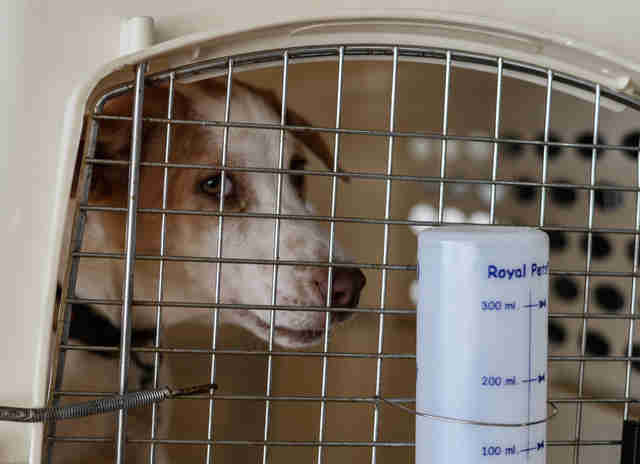 Just having arrived at Los Angeles International Airport, Iman peers out from her crate.
Bowie and Iman play on the grounds of LAX after the long flight.
Two days later, they made their appearance at the Dogs Without Borders adoption fair in Los Angeles. Both pups received a lot of attention from volunteers and potential adopters.
Natalie had cared for Bowie and Iman since birth, so she spent the day with them at the adoption fair. She was grateful the pups would soon find forever homes, but, of course, had a hard time saying goodbye.
Thankfully both pups were soon adopted into loving homes. Abbey Rains, a young student, adopted Iman at the very first fair. She had grown up with dogs and had decided it was time for her to have the company of a canine companion again.
Iman's high energy level was a perfect match for Abbey. The pair has gone on several camping trips with friends where Iman played in the water and got along well with other dogs.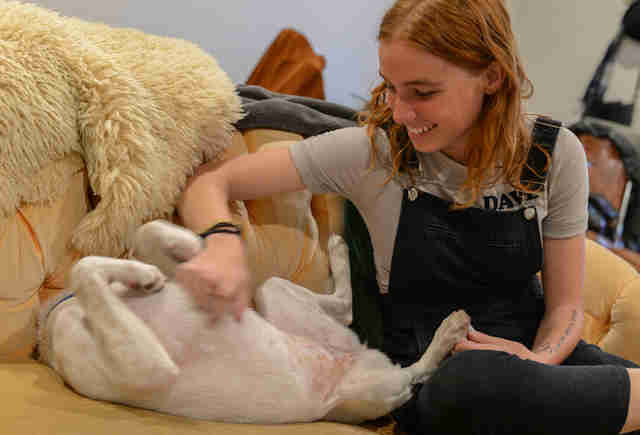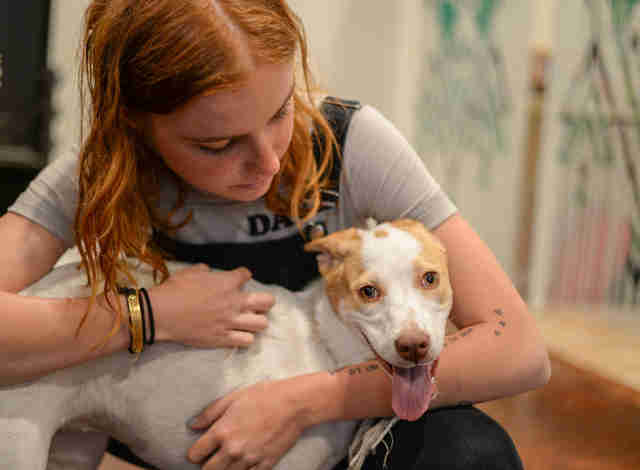 "She is the center of attention at the dog park," Abbey says. "She runs around and gets the other dogs to chase her."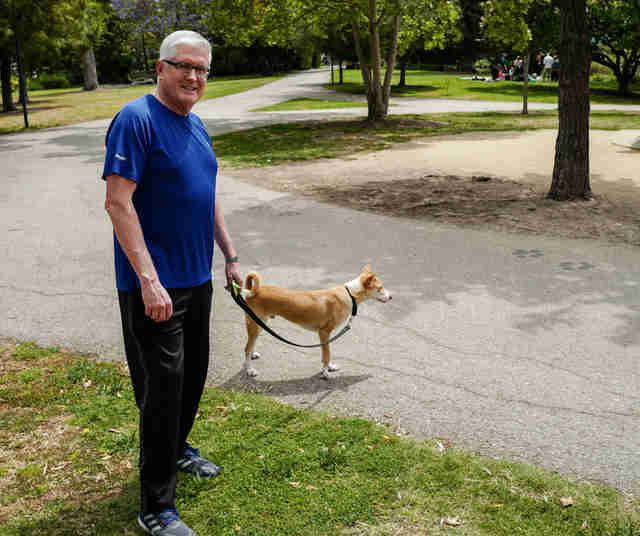 Bowie was adopted several weeks later by Mark Aranbasich, a dentist in Los Angeles. He was familiar with Dogs Without Borders, and had searched on Petfinder for a new companion. He was attracted to Bowie, as his picture reminded him of his beloved dog lost to cancer several years ago.
"Something about his face reminded me of her," he told The Dodo.
"He's a good boy," Mark said.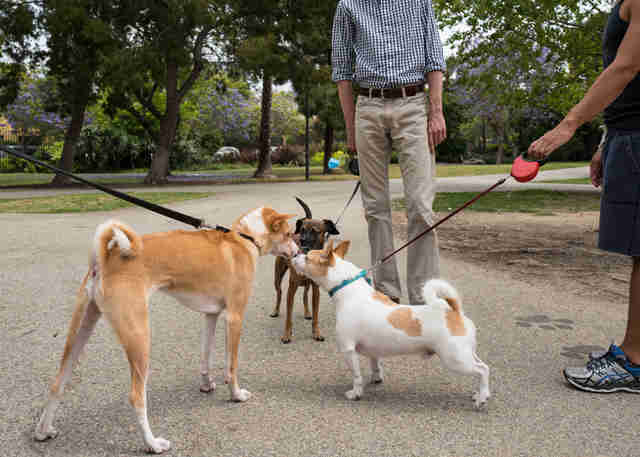 Although Jennifer and I believe we only did a small part in providing these two dogs with forever homes, we do feel a sense of accomplishment.
We also feel frustrated that we couldn't help more of the dogs in the shelter. Seeing these dogs happy and healthy, however, inspires us to continue working for animal welfare.
"We did a good thing," Jennifer told me. "We did a good thing."
To help support Yangon Animal Shelter's work, or if you're traveling in Myanmar and would like to visit or adopt a dog, go to the website.
If you live near Los Angeles and would like to adopt a dog, you can find the Dogs Without Borders website here.