(All photos were taken by me, Jasmine Monrouxe, and this article is also published on my website.)
When you think of a monkey, you picture a happy primate swinging from branch to branch in an overgrown forest, roaming the trees with nothing but confidence. Many people are fascinated by monkeys due to their similarities to the human species - they're highly sociable, can consciously use facial expressions and body language, can stand upright on two legs and share roughly 85 percent to 95 percent of the same DNA as humans. They are a truly incredible species and having the opportunity to observe a monkey in the wilderness is extraordinary. However, seeing a monkey in captivity is a totally different story.
South East Asia is without a doubt one of the main hotspots for backpackers, travelers and holiday-makers. With it's breath-taking scenery, rampant nightlife, exotic animals and exceptionally low price tags, there is no reason not to travel here. But there is a dark side to the increasing number of tourists and visitors. Residents of these countries are under constant pressure of the supply and demand that comes with the flood of tourists - and unfortunately many animals are treated inhumanely to fuel this ever growing tourist industry. Of course people want to experience the unique wildlife of these countries. But in many cases these animals are held in captivity, drugged, beaten and chained just to be paraded in front of hoards of tourists every single day. Many people are willing to pay these attractions just for the thrill of seeing such amazing creatures up close and personal. However, most of these people are unaware that their money is going towards an industry that torture these creatures every single day.
This post is focussing on the plight of the monkey specifically, but elephants and tigers are undoubtedly the most popular creatures that are used to rope in tourists. Personally, I have never seen the point in paying to see a monkey in captivity anywhere in South East Asia. They are abundant in the wildlife and I saw monkeys on numerous separate occasions in the wild during my time in South East Asia. Seeing a monkey in the wild for the first time is literally amazing. I watched in awe as I saw a group of monkeys climbing temple walls, groom each other and care for their offspring when I went to Batu Caves in Malaysia. I particularly noticed their obvious intelligence and how they pay attention to detail when "pick-pocketing" food from unsuspecting passers-by.
I was lucky enough to see monkeys in the wild so regularly in Asia. However, to my disappointment I also saw them in captivity many times. The worst experience I had with a captive monkey was when we visited a "nature park" as part of a pre-booked tour. What I witnessed there was utterly heart-breaking and is actually the entire reason I began my journey in speaking out against animal abuse. They had a 3-year-old elephant chained to a tree that had been there it's whole life, but that's a whole other post. They also had a solitary monkey, kept in the back, up a small uphill concrete drive in an open barn which also "home" to a few caged sheep. This monkey was kept confined by a chain around it's neck connecting to a small portion of a broken tree.Not only was this poor soul chained up, isolated, showing clear signs of absolute distress, but I could also see that he was visually impaired in one eye.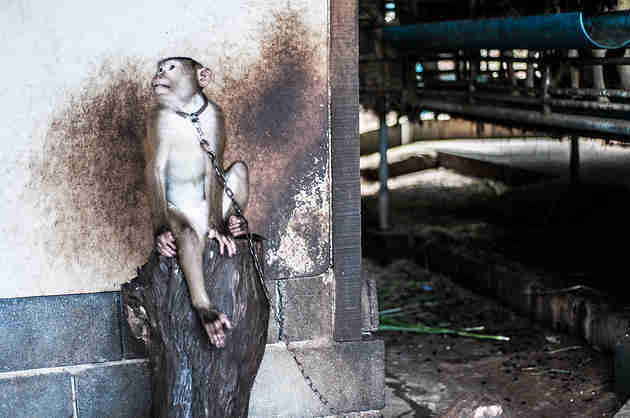 By this point I had seen several groups of monkeys free in their natural habitat and not one had behaved in the way this one did. All wild monkeys had been friendly, boisterous, comfortable with human interaction and let me get close enough with my DSLR and 50 millimeter lens to take detailed face shots. However, this monkey barely let me get within a meter of him without screeching and acting hysterical. My whole experience at this "nature park" lasted probably a total of 30 minutes but it shocked me to the core and is something I will never forget. I had never seen such miserable looking animals and once we had left, all I could do was feel totally helpless and useless. I shed a few tears and vowed to myself that one day I could show these photographs to others and help raise awareness of the grisly behind the scenes realities that take place in the name of getting a few baht from some tourists who don't know any better.
Seeing a monkey is an absolute must-do while visiting South East Asia but it is always worth doing the research and going to see them in their natural habitat. They are truly joyous, cheeky and mischevious creatures that deserved to be treated with love and respect. It is not hard to find a troop of monkeys, just google the words "Monkeys in the wild in ...." and the name of the country/province you are visiting in South East Asia. By choosing to visit monkeys in the wild instead of in captivity, you are single handedly contributing to boycotting captive monkeys that are restrained and abused.
The above photograph was taken on a 50 millimeter lens at Batu Caves in Malaysia. This monkey was wild but had no problems with letting me get close without feeling threatened or lashing out. Please be mindful when visiting monkeys in South East Asia - they will thank you for it!
Love & Light
Jasmine xo