My one and only! needed! Only requirements, big ❤ stong lap???????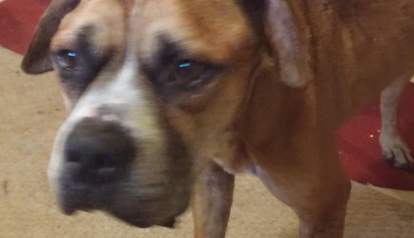 This is whylie, 81/2 yr old pitt bull i just recently got. He belonged to my neighbor. I saw him running loose one day at the end of last summer with a few cuts on him. Never had i seen him without his owner let alone out of his yard. But as we all know dodo happens. So i gathered him up and took him home, i soon realized i had a big problem, his owner had passed away so i called the sheriff out.when thay arrived i asked them to call me if thay had any problems with the dog & id come take care of him, thay agreed.the . the following morning i seen the sheriff was there so i went back over but did not see willie, when i asked about him thay said thay had to pepper spray him as he would not let the coroner examin his dad,& thay hadnt seen him since. Thats when thay told me he had apperently went throu the window to find food as he was locked in the house with his dead owner for at least 2 wks. Allso the next of kin are afraid of pittbulls and dont want him, so i offered to take him knowing there would be issues to work throu. Poor kid, i cant even begin to think what must have gone thru this guys head during thous 2 wks, get pepper sprayed, locked out of his house and spend the night outside for the first time ever scared and alone. Then i come put him in a kennel outside. A week or so latter i went out to feed him he could not get up. Due to his winter jacket i made him i didnt notice the weight loss so i carried him in the house, but now he has lost his will to live. It wasnt easy but i pulled him thru. Now i have a velcrow dog, i cant move an inch without triping over him,
( adbandenment issues)
He now needs more then I can give. Up till now he lived his 81/2 yrs of life as an only child on the lap of a veteran. He is a vary sweet boy, gentle. He dosent pay much attention to my cats, horses, or dogs, but seems so sad when my attention is on them. If any one would b interested in being his one & only please contact me....
gervaisgone2thedogs@gmail.com Or debbiegervais21@yahoo.com And at Facebook.com/debbie.gervais.56
We are in oklahoma.......
Thank you for taking the time to here our story. If you cant help please share so the right person can receive this.
God bless you........