Dogs have always been a part of my life, starting with my first dog Bernie, who used to get so excited at mealtime that he would pee in his food. Bernie was a poodley mix of different breeds and was the first of a long list of dogs in my life: Henry, Ted, Maggie, Sable, Doog, Buck, Cleo, Tiger, and Saber II (my dad really liked that name).
I am just finishing up on a new book about my life with dogs entitled Dogs Rule, Nonchalantly that features Henry, my chocolate Lab on the cover.
I have worked on other peoples' book projects before but this is my first. The book includes paintings of dogs from my twenty-year career as an illustrator/artist for magazines such as The New Yorker, Newsweek and Time, as well as from private commissions.
The book includes my observations about a lifetime of loving dogs -- their quips and quirks, the happy and the sad times. It seems like as fast as a dog comes into your life, they move on.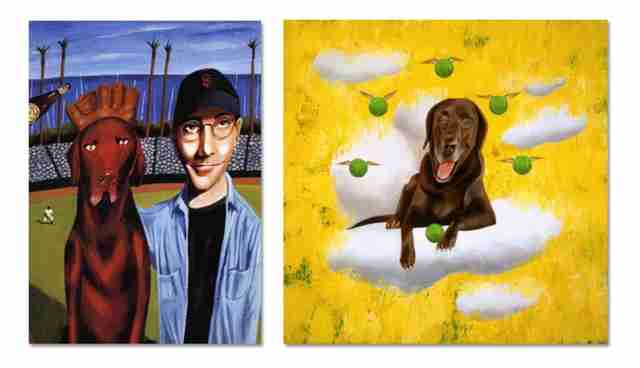 Ted (in his early years) and me (left), Ted in dog heaven (right).
The book will be published in the Fall of this year and I hope it will be a success. To help it along I have started a Kickstarter campaign to raise money to hire a professional PR person and some folks to push it out on social media. Please check out the project, contribute if you can, and please share it with your dog-friendly friends.