Prince is a handsome cocker spaniel who lives a simple but happy life in West Hollywood. When he's not playing with familiar neighbors at the adjacent Poinsettia Park, he's lounging in his apartment among multiple stuffed dog toys and with his human Myra. So what is so special about Prince? Well for one, he walks the doggie red carpet as one of a few furry stars featured in the exhibit My Dog is My Home: The Experience of Human-Animal Homelessness for the National Museum of Animals & Society (NMAS). And secondly, as denoted by the title of the exhibit, Prince and Myra used to be homeless.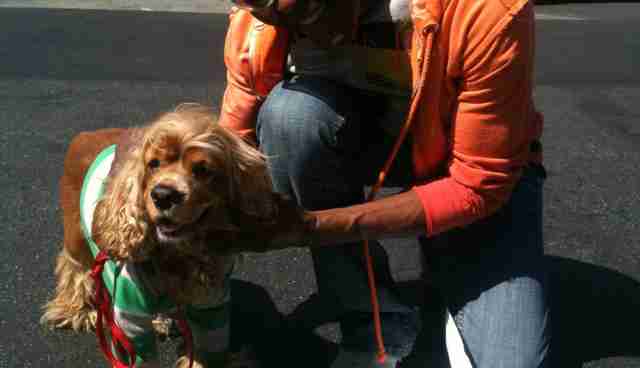 The familiar neighbors Prince plays with at Poinsettia Park are members of the homeless community who call the park their home. Myra and Prince were a part of this community until late summer in 2013 when they moved into their efficiency unit, made possible by a Section 8 voucher that came their way through People Assisting the Homeless (PATH). As is the case with many homeless people who have animal companions, Myra was resistant to the idea of entering a shelter until the PATH outreach workers informed her that their Hollywood location has an on-site kennel for boarding companion animals.
This makes PATH a unique homeless service provider. Los Angeles is known as the the country's homeless capital, and for all its 58,000 residents who are homeless on any given night, PATH is the only shelter in the county with an adjoining kennel space. The kennel has a capacity for 10 animals. Although the number of homeless human-animal families is unknown, it is probably safe to surmise that providing kennels for 10 is insufficient compared to the need. But for those 10 human-animal families who do get a chance to access the shelter, it is a welcome relief.
As research shows, homeless individuals with animals are not only denied access to shelter but also to soup kitchens, community medical clinics, and other basic homeless services. Despite these hardships, many of these animal guardians would not dream of separating from their companion. In fact, their animal's well being often comes before their own. As researcher Dr. Leslie Irvine found in her qualitative interviews with homeless animal guardians, "My dog always eats first" was a common phrase uttered by such individuals. Common enough for Irvine to use it as the title of her book which compiles these stories of hardship and redemption.
Being recruited by PATH to utilize their shelter and kennel space was extraordinary good fortune for Myra and Prince. They were one family out of an unknown number that were brought off the streets into the PATH shelter and were provided with the support they needed to transition into permanent housing. Prince and Myra are now residing comfortably indoors and can often be found volunteering at NMAS. Myra has become the museum's window display artist and continues to work with the NMAS team on expanding her exhibit video into a feature length documentary. But regardless of their recent blessings, Prince and Myra have always been inseparable. With or without four walls, home can be found in the heart of animal, especially for those who have little else.
To see Myra and Prince's video, please visit http://mydogismyhome.com.
By Christine Kim