Mustangs Song and Video to Save Wild Idaho Horses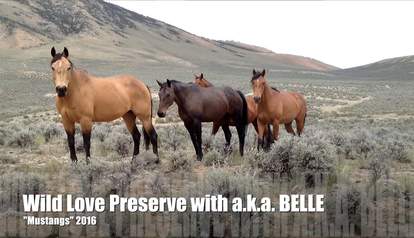 Music For A Cause: Boise's a.k.a Belle with Wild Love Preserve and Idaho's Wild Horses
Idaho's a.k.a. Belle and Wild Love Preserve have collaborated on a very special project to benefit the preservation of Idaho's wild horses with the band's new single, Mustangs. While this song was inspired by the screenplay, The Misfits, written by Arthur Miller, the lyrics also resonated with the story of Wild Love Preserve founded in 2010 in Central Idaho.
In February, Catherine Merrick of the Boise-based indie band, a.k.a. Belle, reached out to Andrea Maki, the founder of Wild Love Preserve, with her desire to support the non-profit's ongoing work in preserving Idaho's wild horses in their native habitat. As a singer/songwriter, Merrick has been a lover of horses since childhood, and as a youngster she too dreamed of saving wild mustangs as visual artist, Maki, has done with her organization in Idaho.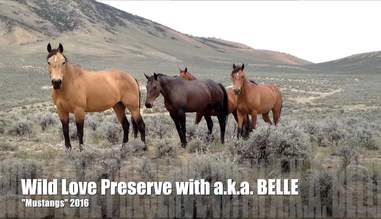 ©2014 Andrea Maki
In Catherine's initial letter to Maki she wrote, "We are about to release a single called Mustangs. Though it is primarily based on the screenplay written by Arthur Miller, The Misfits, it is still, in essence, a song about mustangs, as well as the changing world we live in and people who are struggling with progress."
In turn, after receiving Catherine's introduction and listening to her song, Maki was inspired to fuse song, lyric and visuals into a video with some of her 2014/15 footage from the range, and with Wild Love Preserve's 130 rescued Challis, Idaho wild horses.
The resulting video collaboration has organically unfolded in a manner that reflects stars aligning on behalf of our greater good. a.k.a Belle and Wild Love Preserve are mutually delighted by all of the productive good energy and collaboration which serves to benefit Idaho wild horses remaining wild on their home turf.
Mustangs release date is March 4 via Bandcamp. The Record Exchange in Boise will be selling download cards and folks will be able to pick up a WLP wristband with purchase. In addition to spreading awareness, a.k.a. Belle is donating proceeds from their new single Mustangs to Wild Love Preserve and are making a marked difference in Idaho wild horse preservation. Music For A Cause and Everyone Wins!
Descriptive text about Wild Love Preserve at end of Mustangs music video:
Wild Love Preserve is an American legacy project. The iconic wild mustang is pure Americana, symbolizing unbridled freedom, power, determination, and the wild west. Our wildness is essential to our whole.
Founded in 2010, by contemporary visual artist Andrea Maki, Wild Love Preserve engages public and private lands to address all facets of Idaho wild horse conservation on home turf, from our rescued 130 Challis, Idaho wild horses as result of the 2012 BLM Helicopter Roundup, to our collaborative work on the range, and creation of a permanently protected wild expanse in the heart of Idaho wild horse country.
Your support benefits the preservation of Idaho wild horses in their native habitat and nurtures the health and balance of respective indigenous ecosystems as an interconnected whole. If you believe in the importance of our nation's wild places, now and for future generations, we invite you to walk with us. To learn more and contribute, visit: www.wildlovepreserve.org Music For A Cause: a.k.a. Belle and their new single "Mustangs," 2016.
Learn more about the preservation of Idaho's wild horses on their native turf at www.wildlovepreserve.org