Museum Cancels 'Cruel' Art Exhibit — iPad-Strapped Tortoises Now Free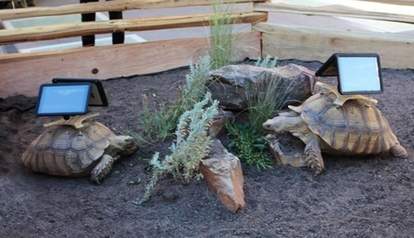 Just weeks after the Aspen Art Museum sparked national outrage for hosting an exhibit that essentially reduced live animals to little more than moving video screen mounts, the controversial art instillation has abruptly been canceled.
Artist Cai Guo-Qiang's exhibition, called "Moving Ghost Town," had featured three large African tortoises that were made to stroll throughout the museum grounds carrying a pair of iPads affixed to their backs. Tortoise experts, like Lisabeth Oden, railed against the idea, calling it "flat-out animal abuse," noting the the animals' shells are not meant to carry any extra weight.
Thousands signed a petition on Change.org urging that the exhibit be removed, and their voices seem to have been heard.
Although the controversial "artwork" had originally been scheduled to be on display through October, in a statement issued on Monday, the museum's board of trustees said that it would be canceled immediately. The tortoises relieved of their iPads burdens, have since been sent to live out their days on a sanctuary.
Those opposed to the exhibit are hailing the move as a win for animal welfare.
"The tortoises deserved better than a life of exploitation and cruelty," said Collette Adkins Giese, from the Center for Biological Diversity. "This is a victory for the tortoises and for all the people who spoke out against their cavalier mistreatment."