'Mummified' Baby Orangutan Rescued From Cardboard Box
After losing his mother to a poacher, an infant orangutan has been saved from what rescuers are calling "one of the most shocking cases of animal cruelty and neglect" they've ever seen.
"Even the most hardened members of the team were shocked by the state the little orangutan was in," International Animal Rescue (IAR) wrote on its website.
International Animal Rescue
Gito, a 5-month-old infant, was being kept as a pet by the leader of a Borneo village, who had paid less than $30 for the tiny ape. Gito's mother had almost certainly been killed so her little baby could be taken and sold for a profit.
When IAR found him, he had been placed in a cardboard box and left in the sun to die. He had been fed only condensed milk, and the box was was soaked through with urine. The small bundle looked so lifeless that rescuers initially thought he was dead.
International Animal Rescue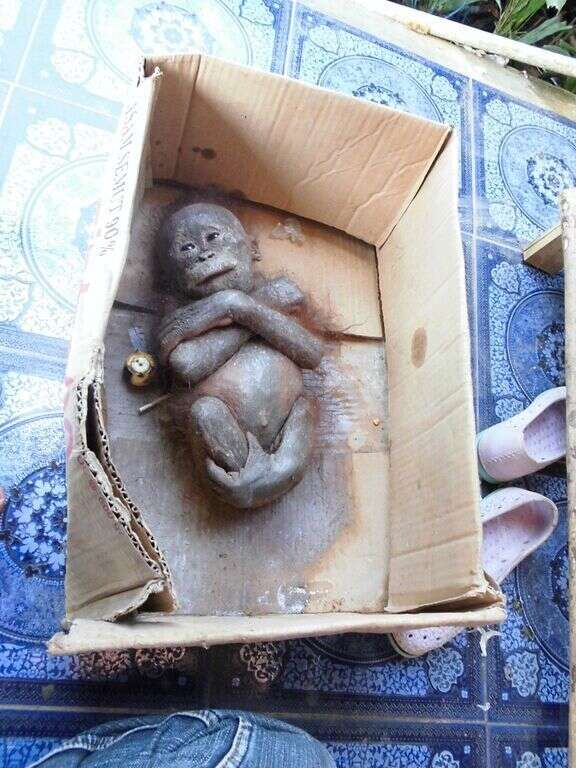 "He was lying corpse-like with his arms folded across his chest and this, along with a lack of hair and grey flaking skin, made him look almost mummified in his cardboard coffin," IAR said.
International Animal Rescue
While the animals IAR rescues usually need a forestry official to accompany them to the clinic, Gito was so critically ill that the department allowed IAR to remove him immediately without waiting. The rescuers bundled him up and set out on the long nine-hour motorbike journey to the clinic.
International Animal Rescue
Fortunately he survived the trip, and IAR's veterinary staff was ready and waiting. An immediate medical check revealed he was suffering from sarcoptic mange, and they quickly put him on a drip and and began to treat his injured skin.
International Animal Rescue
A video shows just how damaged this little orangutan is. His limbs remain crooked and curled as clinic workers gently try to examine him, and he lets out little chirps of discomfort and fear. He's so weak that he can't even hold himself upright, and clings to a worker's hand as he tries to sit up.
Gito's story is tragically similar to that of Budi, a young orangutan who was rescued earlier this year from life in a chicken cage. When he was found, Budi was suffering terribly from malnutrition, his little arms and legs swollen and crooked, and he'd cry out in pain whenever he was touched.
International Animal Rescue
Unfortunately, IAR has seen a sharp rise in the number of tragic cases like these, as orangutan habitats are destroyed for palm oil plantations. The resulting deforestation has caused wildfires to sweep through the remaining forests, leading more and more of the reclusive apes to come into contact with humans.
International Animal Rescue
"Our team has seen a significant increase in the number of baby orangutans being kept as pets and some of them have only recently been taken from the wild," Alan Knight, IAR's chief executive, said in a statement. "This is the result of the forest fires devastating Indonesia and leaving wild orangutans without food or shelter. Those that escape being burnt alive are left exposed and vulnerable, under threat of starving to death or being killed or captured by human beings."
International Animal Rescue
Unfortunately, the tragic abuse of baby orangutans will continue as long as their habitats are being destroyed, and the entire species is at risk of disappearing: Orangutans have lost up to 80 percent of their population in the last century, with the death rate increasing significantly in recent years.
International Animal Rescue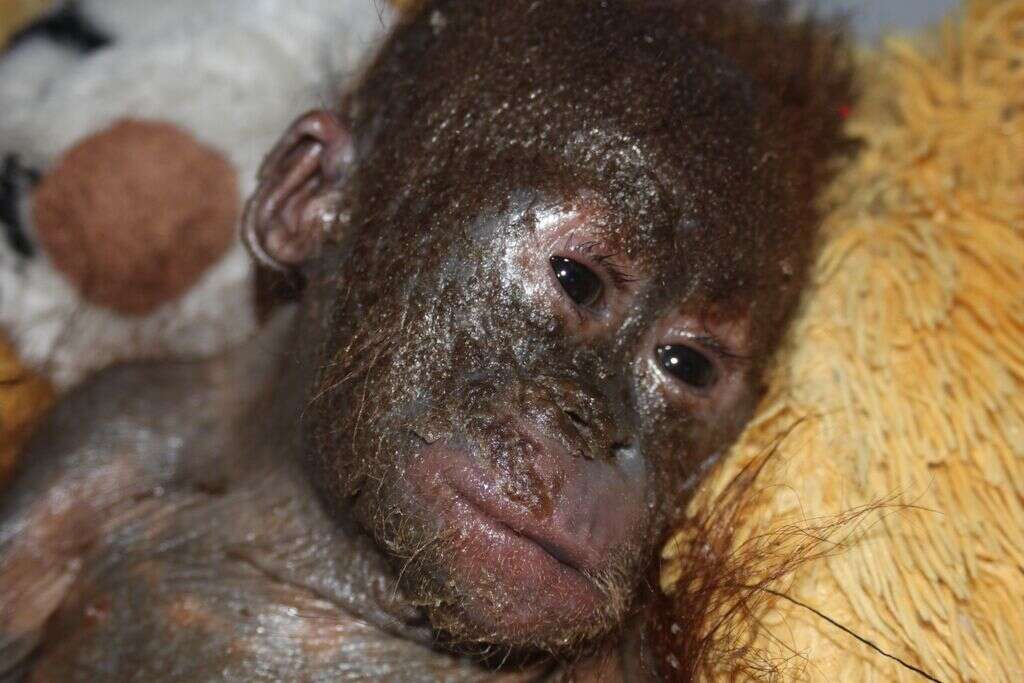 But for now little Gito is safe, and while he has a long journey ahead of him IAR will continue to give him the care and love he needs. If you'd like to help provide him medical treatment and care for the other orphaned orangutans at IAR, you can make a donation online.
Watch a video of him below.