'Mummified' Baby Orangutan Undergoes Amazing Transformation
When Gito was first found, rescuers thought he was dead.
Motionless and covered in gray, flaking skin, the little orangutan had been placed in a urine-soaked cardboard box and left to die. He had been living only on condensed milk while being kept as a pet, and was severely malnourished.
International Animal Rescue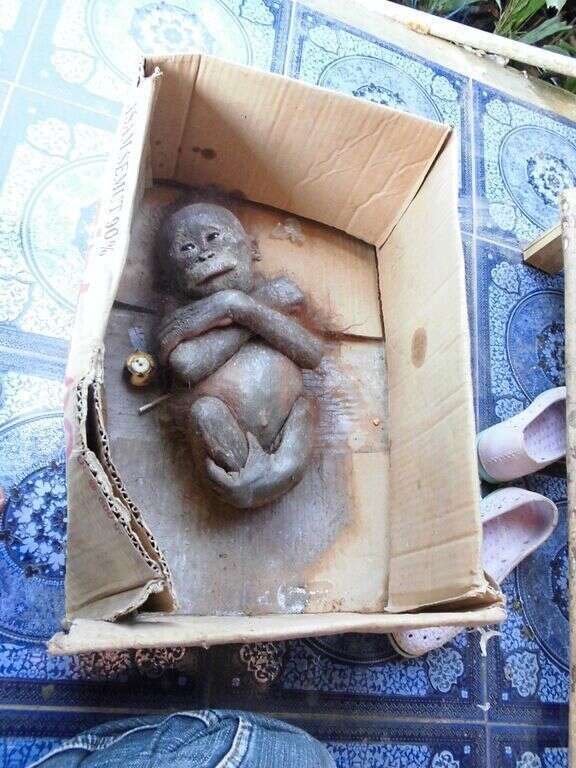 Rescuers from International Animal Rescue (IAR) said he looked "mummified," and called it "one of the most shocking cases of animal cruelty and neglect" they'd ever seen.
"Even the most hardened members of the team were shocked by the state the little orangutan was in," the group wrote on its website.
International Animal Rescue
But now, thanks to the tireless efforts of IAR's staff, little Gito is finally recovering the life that should have been his - and he couldn't be cuter.
Recent photos show a healthier, bright-eyed infant, playing on his jungle gym and staring into the camera with evident wonder.
"We are delighted to share these photos with you, which show just how far Gito has come since he was recently rescued by our team," IAR wrote on Facebook. "Gito's skin is looking a million times better and his condition continues to improve on a daily basis."
And while he isn't completely out of the woods, his rescuers can't help but hope for the best. "It is still too early to tell if Gito's sad start to life will have had any long term effects on his health," the group added. "However, the vets are very pleased with his progress and we are all hopeful that one day he will be released back into the wild."
He's also becoming more active. A video from earlier this month shows the formerly lifeless orangutan swinging on a bar with the help of his physiotherapist.
After all he's been through, Gito is finally reclaiming the life he should have had all along. And if he continues to improve, he'll have a very exciting day coming up soon. "The first challenge for Gito is preschool, which he is due to start very soon!" IAR wrote.
Gito's stunning transformation is an excellent reminder of just how much good groups like IAR can do for the animals they rescue. To help IAR care for Gito and other orphans like him, you can make a donation here.
You can read more of his story here. And watch below for more clips from his rescue and recovery.