When a couple learned that their dog Dukes had cancer and likely wouldn't survive, they gave him the trip of a lifetime. And they brought the whole family along.
Zhenia Bulawka and boyfriend Christian Valiente traveled with Dukes and their other two dogs to Assateague, Maryland, for the family's first trip to the beach.
Dukes and ValienteZhenia Bulawka
The family saw how much Dukes loved swimming in a family member's pool back in Baltimore, so they knew he'd be excited to try out one of his favorite activities in the big, open ocean.
He did love it, but to their surprise, it was Ruby, the other pit bull in the family, who raced into the water before anyone else.
Bulawka and RubyZhenia Bulawka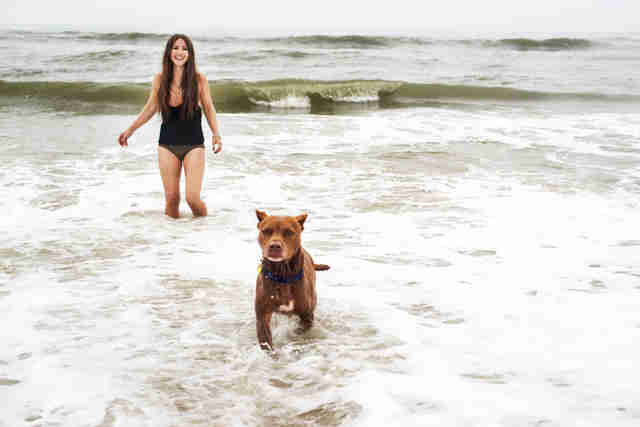 "The day at Assateague is forever etched in my mind," Bulawka told The Dodo.
Bulawka, Valiente, Dukes, Ruby and Violet spent the day playing in the sand and eating picnic sandwiches. At night, they walked on the moonlit beach.
"Every moment spent with Dukes was pure joy, and the Assateague trip was no exception," she said. "I wish we could have done it together again."
On September 6, 2014, Dukes passed away.
It was especially tragic since, from the moment he'd entered their lives, he was a guardian of other dogs, according to Bulawka. Her mother found Dukes in Patterson Park in Baltimore in 2005. He was underneath a tree, "glued to the side of an old Labrador that was too dehydrated to get up," Bulawka explained. Her mother took home the Labrador, later named Big Boy, and she gave Dukes to Bulawka. Since then, the young woman and her dog were the best of friends.
When he left, so did that sense of happiness and excitement he brought into the home.
"Dukes had such a presence and so much personality. He loved life and was always ready to get out there," said Bulawka. "If we were in the car, he wanted to be up in the front seat being copilot. If we were swimming at the pool, he'd be the first one to jump in. He was so excited to just live and experience life. When he was gone, it just sucked the life out of everyone."
And Ruby, too, missed her friend.
Ruby in the laundry hamperZhenia Bulawka
"They were pretty much inseparable, wrestling in the basement - the only place in the house we would allow a little roughhousing - and snuggling in bed together once they'd worn one another out. Next thing you know, both would be snoring away, their bodies intertwined in the most uncomfortable-looking positions, but they were just so adorable," said Bulawka.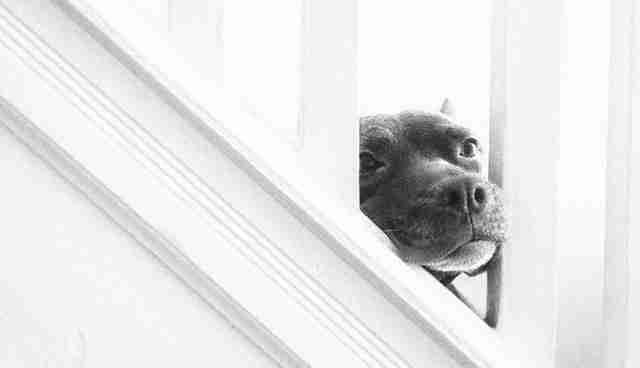 As a victim of past abuse, Ruby joined the family with teeth knocked out and ears that appeared to be cut by a pair of kitchen shears. Dukes was another pit bull to look up to, and without him, she fell into a depression, according to Bulawka.
"They both hate baths," said Bulawka. "They were both pissed."Zhenia Bulawka
Violet, the other family dog, felt the loss of Dukes as well. Like Ruby, she was also the victim of unimaginable cruelty.
"Because of her past, she's terrified of people," said Bulawka. "But when she was with Dukes, she felt so tough and mighty. She knew she was protected."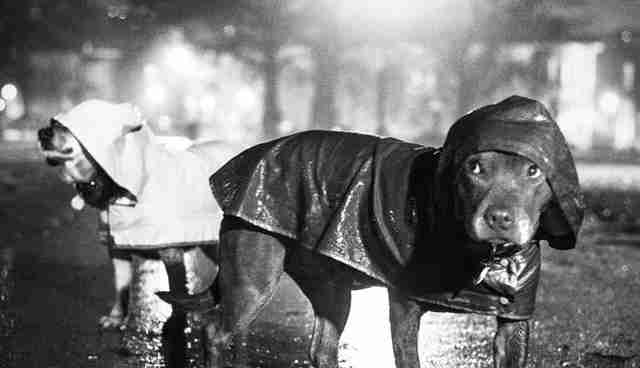 "Dukes was sorta the middle man, and everyone got along as a group," said Bulawka. "With him gone, they didn't have any desire to interact with one another."
For many months, the two dogs lived their own lives. Bulawka and Valiente wondered when the dogs would warm up to one another, but they decided not to force anything. Time would heal the wounds.
And it did.
"It just happened," said Bulawka.
Ruby in Patterson Park.Zhenia Bulawka
It was on the same walk that Bulawka and Valiente go on every day with their dogs, around the block to Patterson Park. Out of the blue, Ruby and Violet began to interact with each other in a way they never had before.
Every activity from walks to days at the house became a chance for Ruby and Violet to play together.
Violet and Ruby on a bridge at Gunpowder Falls State ParkZhenia Bulawka
Below, the dogs eat a breakfast of blueberries together - a habit they picked up back when Dukes was first diagnosed and Bulawka and Valiente switched his food to home-cooked meals.
A year after Dukes' death, Bulawka and Valiente made a trip back to the beach at Assateague, and, of course, Ruby and Violet came along as well.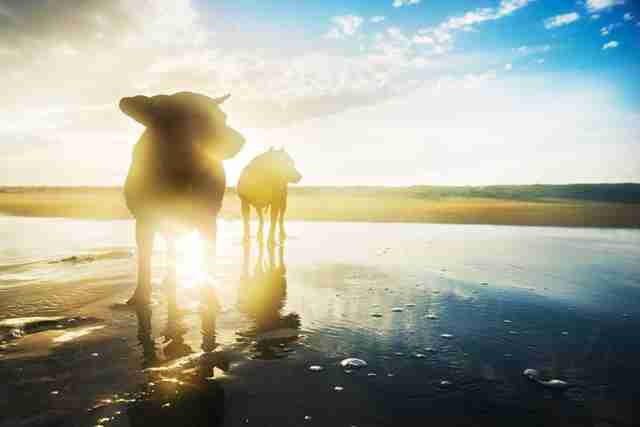 Just like the previous year, Ruby was the first to run into the water, and after watching her sister have such a good time, Violet joined in as well. As the sun set late that September day, the family splashed in the waves and immersed themselves in the joy of each other's company.
"It felt like Dukes was with us," said Bulawka.
It took a year of grief and patience for time to heal the pains of heartache, but in those moments on the beach, the sadness washed away. The family was all together again.
Ruby and Violet on Christmas Eve 2015Zhenia Bulawka
You can follow Bulawka and her dogs Ruby and Violet on Instagram.
Are you a photographer? Contact solon@thedodo.com to share your story.