Mother Dog Reunites With Her Daughter After 7 Years Apart
"They just immediately started playing — jumping on each other, rolling all around."
If a pregnant dog named Nora hadn't been rescued, she would have given birth to her puppies inside a filthy outdoor cage. She was only 10 months old when she was found, but she'd lived her entire life until that point inside that cage.
Besides being pregnant and imprisoned in a grimy cage, Nora was severely emaciated when rescuers found her at a backyard breeding facility in Manitoba, Canada, in November 2008.
"She was just skin and bones," Elizabeth Spence, Nora's future owner, told The Dodo. "You could count all the ribs, and yet she was pregnant. She was dirty and terrified, and she had chain burns around her neck."
Thankfully for Nora, who is 9 years old today, she didn't have to give birth at the puppy farm. After animal control seized her and several other dogs from the property, Nora went into foster care with the help of an organization called Funds For Furry Friends.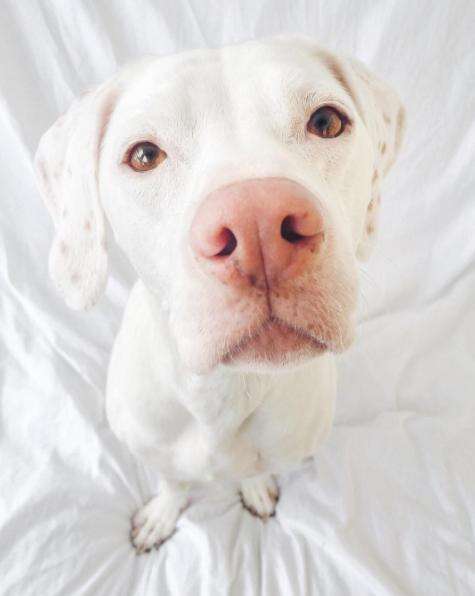 Two days after her rescue, Nora gave birth to a litter of five. Unfortunately, one puppy died, but the others grew big and strong with Nora's love and care. When the puppies stopped needing Nora's milk, each one was put up for adoption - including Nora.
Spence and her husband wanted to get another dog, so Funds For Furry Friends arranged for them to visit Nora's foster home. The Spences fell in love with Nora the moment they saw her. "We've always liked the ones who really need the love," Spence said.
Nora certainly did need a lot of love, as well as a lot of patience. She was scared of everything, according to Spencer.
"She was clearly abused," Spence said. "Initially when you'd go to pet her, she'd go down to the floor and she'd hunker away. She looked like she was afraid that she'd be hit or something like that."
Despite her fear issues, Nora was a sweet dog who was eager to please, Spence said.
"She's been a wonderful dog, as kind and gentle as you'd ever imagine, which is somewhat surprising," Spence said. "We didn't have any kids at the time, but we had a dog, and we had three cats, and she adjusted really well to them. Then we had kids, and she adjusted really well to them, too."
Nora formed a particularly close bond with Spence's son Archie, although she loves all three of Spence's children. "I always felt she missed having her own pups to love, and she transferred that to my kids," Spence said.
Spence thought Nora would never see her puppies again, but last year, Spence got a call that changed everything. The family who owned one of Nora's daughters couldn't keep her anymore, and they asked if the Spences wanted her.
"We just had a baby and we had all of these animals, but I gave my husband the proverbial puppy dog eyes," Spence said. "And I said, 'Let's just meet her.'"
Nora's daughter - Remington or 'Remi' for short - lived on a farm about six hours away, but her owners drove her all the way to Winnipeg, where Nora lived. If there was any doubt whether the Spences would keep Remi, Nora quickly made the decision for them.
"They just immediately started playing - jumping on each other, rolling all around," Spencer said. "It was just like Nora and Remi had never been apart."
If anything, Spence thought that either Nora or Remi would try and establish dominance with each other, which is something dogs normally do. But they didn't. Spence believes that Nora recognized Remi as her daughter.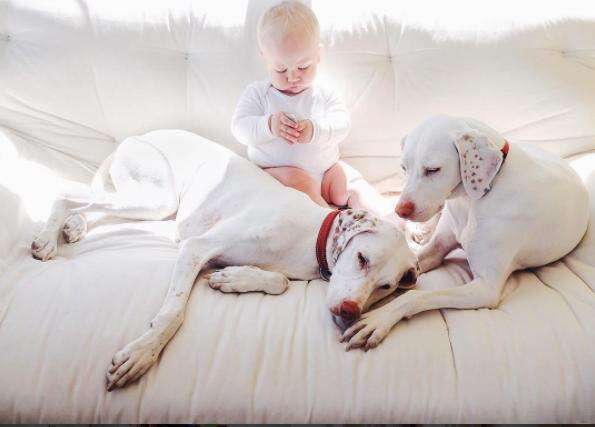 "I think Nora definitely knew," Spence said. "They say that dogs never forget a smell. I don't know if we're romanticizing it or not, but I've never seen Nora so immediately affectionate with another dog."
Sadly, a week after Remi arrived, disaster struck: Remi slipped out of her leash, ran out onto the street and got hit by a car. Spence rushed Remi to the hospital, but the veterinarians initially thought she wouldn't make it. "They weren't sure if she had internal damage," Spence explained. "It was a bit touch and go there for a few days."
But Remi eventually got better, and when she came home, Nora refused to leave her daughter's side.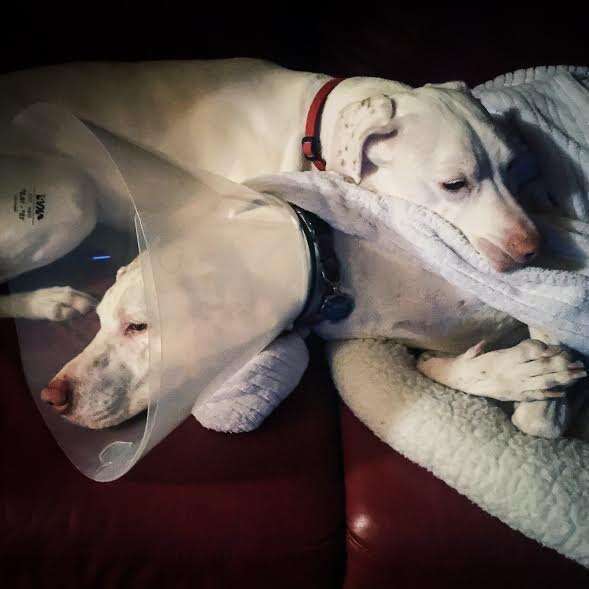 "Nora slept on top of her for about a week, like right on top of her," Spence said. "She'd only known her for a week, and she didn't leave her side at all, and she just slept on her."
Remi's injuries are all healed up now, and she and Nora continue to be inseparable.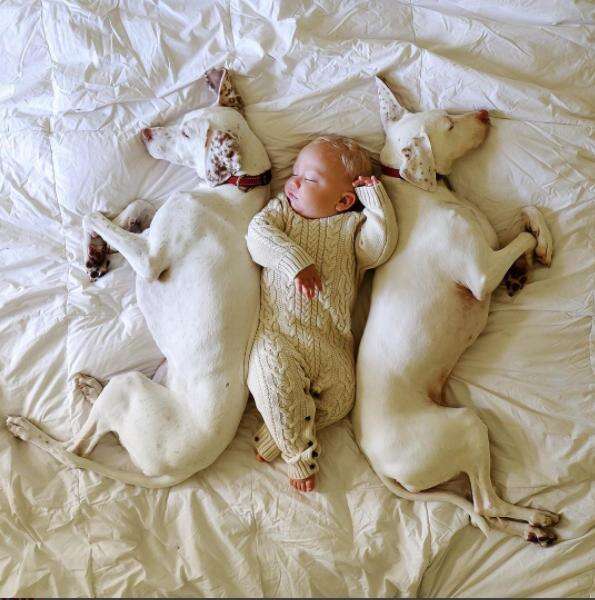 "They'll play tug of war with the squeeze toy, they'll roll around, they lick each other," Spence said. "They sleep on top of each other all the time, and there's never any fighting or establishing of position. It's just beautiful."
It's not just Nora and Remi who have a strong relationship either - all the animals in the Spence family, and well as their three kids, enjoy each other's company.
"Everyday you just see a pile of cats and a pile of dogs and a pile of kids sleeping together," Spence said. "It's quite surprising to us that we ended up with all these animals who are incredibly loving and affectionate. Everyone gets along. It's really neat, and really fun to see."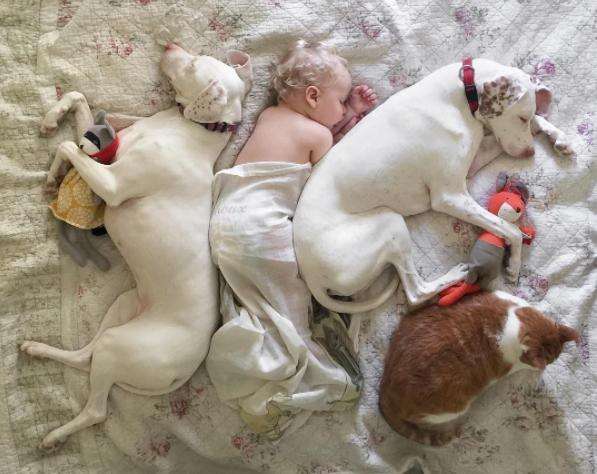 But it's possible that Nora could be the happiest of them all. "The circle of love is complete now that she has Remi, too," Spence said.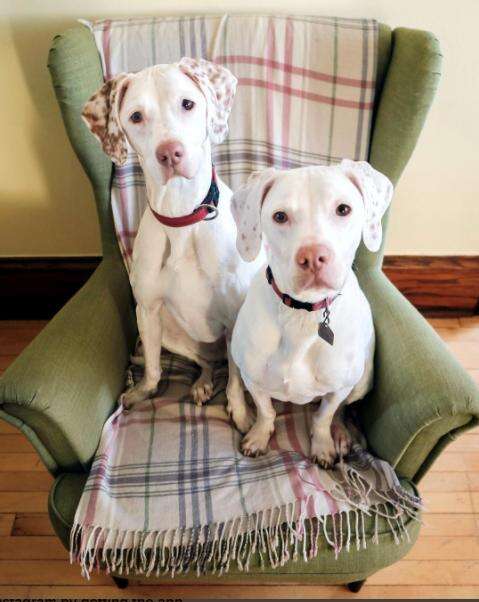 To see more cute photos of dogs, cats and kids snuggling together, follow this very special family's Instagram page.