Over 30 Baby Elephants Have Now Been Kidnapped In Zimbabwe
<p> Photo copyright by Michael Poliza </p>
At a time when elephant populations are in crisis worldwide, we were shocked and horrified when reports surfaced in late 2014 that more than 30 baby elephants were stolen from their families in the wild in Zimbabwe.
Captured baby elephants face a grim future of a life spent suffering in miserable conditions in zoos, performing forced labor, or worse. As renowned elephant expert Dr. Joyce Poole recently stated, the life of a captive elephant is "a fate worse than death." That's why we are demanding answers.
On December 23, Elephants DC officials met with Zimbabwean embassy officials in Washington DC regarding the protection and conservation of elephants in Zimbabwe. We were joined by representatives of other non-governmental organizations, including the Jane Goodall Institute.
As we told the embassy officials, we are very concerned that captive baby elephants are slated for exportation to China, France, and the United Arab Emirates (UAE), as described in newspaper articles from around the world. The calves were reportedly captured from the Hwange National Park in November.
As of our meeting, the Zimbabwean officials told us they were waiting for information from their government regarding the status of this situation. We expressed interest in learning more about the current status of the elephant calves and potential export plans when such information became available.
Here's what we want to know
There are too many rumors and inconsistent statements, and not enough concrete information about what has actually happened to the elephant calves and their families. Specifically, we asked the embassy officials for answers about the following:
We're concerned that wild elephant populations in Zimbabwe are declining rapidly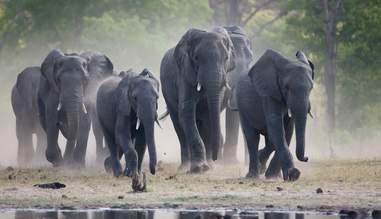 According to the Pan Africa survey from our own elephant advocate in Zimbabwe, elephant populations have decreased considerably over the past 12 years, including a 40 percent decrease in the Zambezi Valley and a 75 percent decrease in Sebungwe.
Instead of numbering over 100,000 as previously reported, we are concerned that the population of elephants may be closer to 80,000 -- or less. There's concern that elephant numbers continue to decline annually. Indeed, it is clear that poachers are targeting the wildlife of Zimbabwe, and we share a common goal of seeking to prevent this poaching.
In light of the threat posed by poaching and other threats to wild elephants, removing baby elephants from the wild is unacceptable.
We're concerned for the welfare of the baby elephants
Our concern for the elephant calves is based on their complex needs, including their dependence on their mothers as well as the strong social bonds with other familial members of the herd. Elephants have keenly developed emotions that rival those in humans, and removing an elephant from its family is nothing short of traumatic and devastating.
In a statement, Dr. Jane Goodall expressed her outrage about the capture of the elephant calves, stating: "After all the studies that have been carried out, monitoring the behaviour of wild elephants, and all the reports published of their intelligence, and the importance of childhood – have we learned nothing?" Elephants DC shares this outrage.
This is not the first time that Zimbabwe has exported baby elephants to foreign countries. Three of the four elephant calves sent to China from Zimbabwe in 2012 have died. The lone survivor is sickly and living in isolated, inhumane conditions in a Chinese zoo, according to an article published by National Geographic in December 2014.
Considering the physical and psychological needs of elephant calves and the unfortunate results of the previous export of elephant calves from Zimbabwe to China, we asked the embassy officials to encourage their government to reconsider its decision to sell any of the baby elephants.
A better strategy to protect all elephants
As the Zimbabwean First Lady Dr. Grace Mugabe recently stated, "We value the collaborative effort in the development of practical strategies to ensure the sustainability and viability of all natural resources." She then encouraged everyone to work together to "create awareness of wildlife crime and to foster coordinated enforcement action that will be incorporated into mainstream long term strategies for biodiversity conservation."
Elephants DC is eager to assist in developing such a strategy. We won't stop advocating for these Zimbabwe elephants -- and all elephants -- until we get the answers and results we seek.
Elephants DC sincerely thanks everyone who has advocated against the export of Zimbabwe's elephants.