Montana Considers Lifting Grizzly Bear Protections (Just In Time For Endangered Species Day)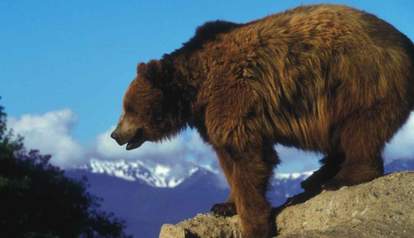 Montana's Fish, Wildlife and Parks service announced this week that it will join the federal government in a move to reduce protections for threatened grizzly bears in the Northern Rockies, removing two species from the Endangered Species List within the next two years. The new rules would address two separate populations of grizzlies, one near Yellowstone National Park and the other in the Northern Continental Divide region, where a combined 1,800 of the bears live, approximately.
According to the Associated Press, the potential changes are in the early stages and will undergo a long evaluation period, especially since grizzlies were recently de-listed and then put back on the Endangered Species List:
Yellowstone-area grizzlies were delisted in 2007, then returned to the list under court order in 2009. A U.S. District Court judge said at the time that the Fish and Wildlife Service had not shown the bruins' recovery would withstand the loss of a key food source, the nuts from whitebark pine cones. The agency has since done additional scientific work and concluded the bears can switch to other foods, such as elk. ...

Unless populations decline dramatically during that period, state officials would be charged with the long-term management of the grizzly population. For Yellowstone, that will include working with officials in Wyoming and Idaho. In the Northern Continental Divide, officials would work with those from the Confederated Salish and Kootenai Tribes and the Blackfeet Tribe.
Wyoming representative Sam Krone told the AP that his state might move quickly to legalize trophy hunting for grizzlies in the aftermath of the decision, which could hugely diminish only recently recovering populations. Trophy hunting advocates tout the activity as a key form of conservation -- but in reality, it merely contributes to the gradual decimation of endangered species around the world. Additionally, studies have shown that bear-watching is actually more lucrative than bear-hunting.
Join us in pledging never to support big game hunting of any form, and to stand with governments that ban the sale of imported animal "trophies."
[rebelmouse-campaign #StopTrophyHunting target=1000 increment=500 twitter_share_message="Join me and pledge never to support trophy hunting and take a stand for endangered species #StopTrophyHunting" call="**Sign this petition** or share on Facebook, Twitter and Instagram with **#StopTrophyHunting**" theme=dodo]