It's not just basketball players and gamblers who fall prey to believing in "lucky streaks" -- monkeys do, too. When scientists trained three rhesus monkeys to play a computer game, the primates acted as if they always made winning choices, even though wins came at random. The monkeys basically made choices as if they were on a roll in a casino, laying down bets.
The scientists had monkeys play thousands of rounds of a simple game, to figure out if monkeys would succumb to the "hot hand phenomenon." (When basketball players mistakenly feel more likely to score after sinking a shot, that's the hot hand phenomenon.) "Luckily, monkeys love to gamble," states Tommy Blanchard, a cognition expert in at the University of Rochester in New York and an author of the new study in the Journal of Experimental Psychology: Animal Learning and Cognition.
To win juice rewards, the monkeys had to correctly guess which side of the screen would show a colored rectangle. There were two types of scenarios in the game: a pattern or a random sequence. The rhesus monkeys quickly mastered the pattern. But when games became random, the monkeys continued to guess as if they were playing in a pattern scenario, too.
Why might monkeys -- and humans -- be hardwired to believe in lucky streaks? That's a hand dealt by evolutionary history, according to the authors. In a given habitat, food resources aren't distributed at random, for example, but instead pop up in clumps.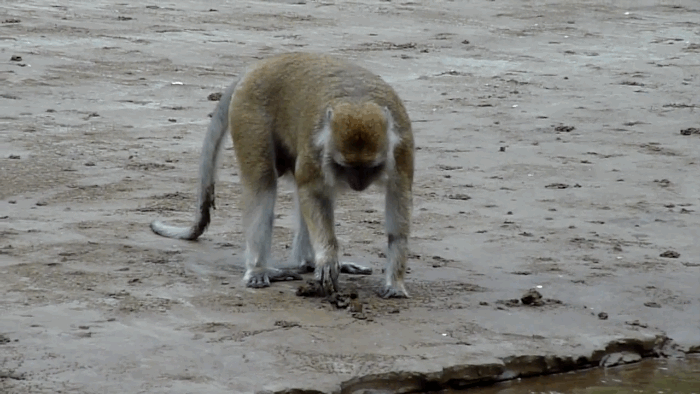 "If you find a nice juicy beetle on the underside of a log, this is pretty good evidence that there might be a beetle in a similar location nearby, because beetles, like most food sources, tend to live near each other," says study author and University of Rochester professor Benjamin Hayden.
Humans like to think all of our decisions are consciously made, Blanchard explains, but we're often influenced by internal biases. "We don't know where a lot of these biases come from, but this study -- and others like it -- suggest many of them are due to cognitive mechanisms we share with our primate relatives," he says.
More miraculous monkey stories on The Dodo: