Monkey Brothers Kept As 'Slaves' On Roof Of Hotel
They were so scared when rescuers came — but they're finally free.
Assanee and Wasan, two brothers named after famous Thai pop stars, began their lives not in the safety of their mother's care, but severed from it.
It's more than likely that the northern pig-tailed macaques were stolen from the forests after witnessing the death of their mom, according to Wildlife Friends Foundation Thailand (WFFT).
After that undoubtedly traumatic experience, the two brothers were shuffled into the pet market, where they were purchased at only a few months old for $230 each - and then they were put to work. For nearly two years, the macaques were kept on the fifth floor of a hotel about an hour away from WFFT's rescue center in Phetchaburi.
"The two macaques in question were being used as 'guard' macaques, chained on the top floor of the hotel to scare away the smaller, urban long-tailed macaques, and prevent them from occupying the hotel," WFTT wrote on Facebook. When Assanee and Wasan's owners decided that they no longer needed the monkeys, they reached out to WFFT to take the animals.
"We were asked to help as the chains which were used to confine them were beginning to start causing serious injury and pain," Tom Taylor, assistant director at WFFT, told The Dodo.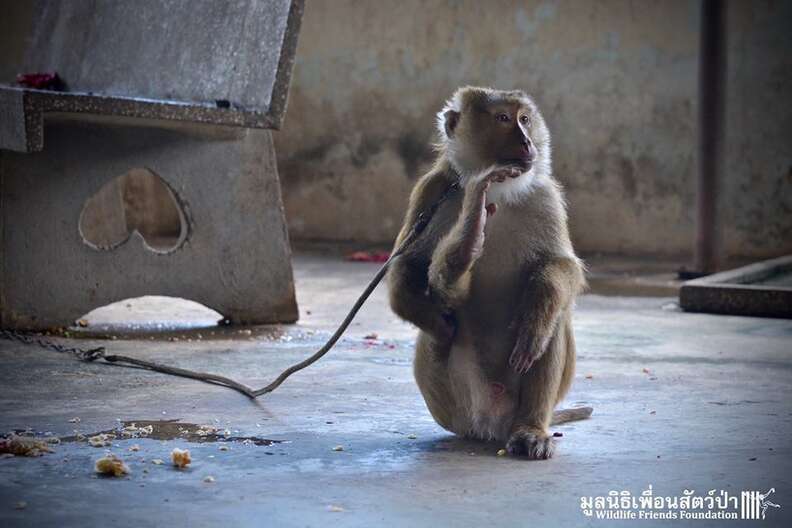 "Maybe this impulsed the owners to think again about keeping wild animals captive. We can also assume that using them as guard monkeys to scare away others was not such a success, as giving up such animals with value is not done lightly," Taylor said.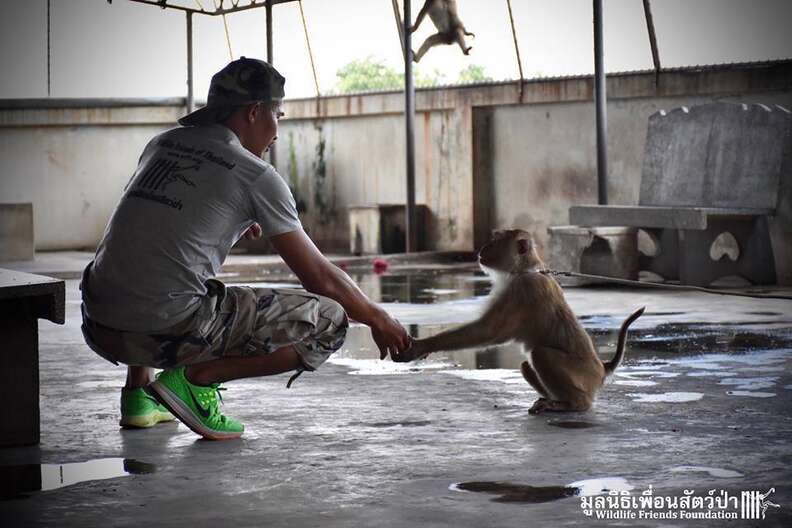 When WFFT's rescue team arrived to pick up the brothers, the monkeys were "very wary," Taylor said. "Imagine being confined to the roof of a building for two years with little contact with humans and no contact from other members of their own species, then to be faced with lots of 'strange faces,'" he continued.
During their initial health examination, it was found that the skin around the iron collars the monkeys wore had become so deeply embedded in their necks that some areas were completely concealed by flesh.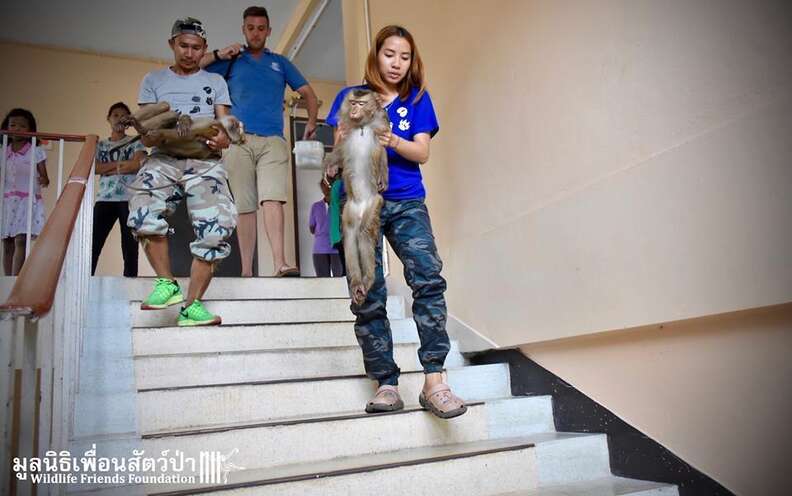 "Such barbaric tools are to used prevent the enslaved macaques from escaping," WFFT wrote. "These rigid iron neck restraints are comparable to those used on human slaves during the abhorrent transatlantic slave trade. They are put around their necks at a young age and remain unadjusted as they grow."
Once the monkeys had their chains removed, they were taken to the WFFT Wildlife Hospital, where they were also relieved of their shackles before they were cleaned and given antibiotics in addition to pain medication.
Taylor said the macaques are now slowly getting used to their new lives, although they're still wary of their surroundings. Since the brothers grew up in captivity, they are unable to return to the wild. However, Assanee and Nasan will be housed at the WFFT Wildlife Rescue Center, in a large open field habitat, where they can move freely, socialize with their own species and finally be safe from harm.
"Free from their chains, these young boys will never have to be slaves again," WFFT wrote.