The Moment She Realizes Her Life Is About To Get So Much Better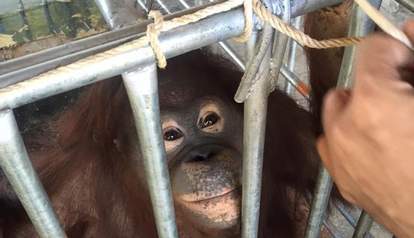 <p><a href="https://www.facebook.com/125452764504959/photos/pb.125452764504959.-2207520000.1456238316./158990714484497/?type=3&theater" target="_blank">Facebook/Save Milo</a></p>
"Milo is a 13-year-old orangutan who has spent her life in terrible conditions in Phuket Zoo, Thailand," Vicki Kiely wrote in a petition that started to cast light on Milo's plight. "She is a living in a dark concrete box that is closed with a roller blind, and gets no light."
Kiely described how, when Milo was finally allowed outside, she was forced to wear silly glasses and hats and pose for photographs with gawking tourists. "She hates doing this," Kiely wrote. "She sits with her arms folded and [has] a fed-up look on her face."
Indeed, Kiely wasn't the only person to notice how bad the Phuket Zoo was for animals. "Never been so saddened at the visit of an 'attraction' from the neglect of any type of comfort to the animals and to the complete disregard of any kind of maintenance to the place," one visitor, among many shocked and saddened others, wrote on Trip Advisor.
Kiely observed that Milo was in bad shape, physically and mentally - overweight and depressed. But Kiely knew that Milo had the potential to live a full life - if she was only given the chance.
"She still has love and light in her," Kiely wrote, "and deserves a far better life than the one she is living."
And Kiely was right.
After she started a campaign to release Milo, and a petition demanding Milo's retirement to a sanctuary garnered over 12,000 signatures, Milo finally got a chance to let her light and love shine through.
Milo was released to Phang Nga Wildlife Nursery, where she was finally allowed to step out of her cage and into the loving arms of her rescuers.
On Sunday, Kiely described the incredible moment Milo finally felt freedom for the first time in ages. "When we first took her out of cage," Kiely wrote on Facebook, "[s]he stopped and gave me a big hug! Was so sweet ... Thank you again everyone for everything ... You all helped me make this happen."
After Milo recovers and gets used to her newfound freedom, she will likely go to a government-run wildlife sanctuary in Ratchaburi, Kiely told The Dodo.
While she's still apprehensive around most people, Milo seems to know she can trust the woman who completely changed her life.
Have a tip? Email sarahv@thedodo.com.
Update: This story has been updated to reflect new information that Milo will go to a government sanctuary in Ratchaburi near Bangkok.