Cow Asks For Help When Her Baby Has A Fever
Ruby almost lost her baby once - and she's determined to never let it happen again.
"Ruby the cow started mooing and mooing over and over," Poplar Spring Animal Sanctuary wrote on Facebook in late April. "We thought maybe her baby Lucas had escaped the pasture, as he had done several times."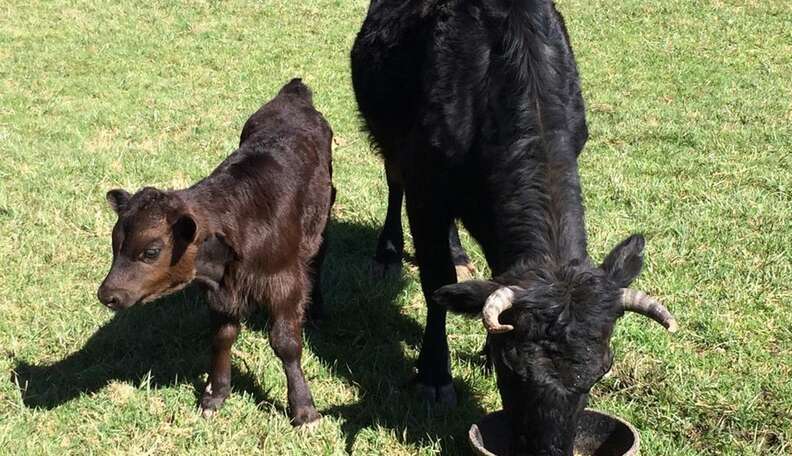 But this time something else was wrong.
Lucas and his mom have endured a lot of hardship already. Ruby gave birth to Lucas in a kill pen. They were unwanted farm animals, slated to be killed if they weren't purchased at an auction in Pennsylvania. And Ruby and Lucas almost didn't make it out alive.
A woman who was there to rescue horses passed the cold, dirty pen where Ruby and her newborn were huddled together. She immediately stopped. Ruby had turned to her with tears in her eyes. The woman couldn't get this mother cow out of her mind.
So, earlier this week, when Ruby wouldn't stop mooing, sanctuary workers approached cautiously. And they realized that there was something really wrong.
Lucas had a high fever. Ruby was calling for help.
As any mother would, Ruby went with her baby back to New Bolton Center Hospital, where doctors tried to determine what was wrong with the calf.
Meanwhile, in response to a plea from staff at Poplar Spring, donations for Lucas's hospital bills poured in from animal lovers.
"A HUGE thanks to everyone who contributed to help Lucas the calf with his vet bills," Poplar Spring wrote on Facebook. Thanks to people rooting for Lucas, the sanctuary reached its fundraising goal in less than 24 hours. "We are truly grateful for the outpouring of support for this amazing little calf who has struggled so hard, since the day he was born."
But there were concerns that Lucas might have a serious disease, stemming from his rough beginning. At the hospital, Lucas was hooked up with antibiotics and IV fluids so he could gain his strength back. Doctors tested him for Bovine Viral Diarrhea (BVD), which is a serious disease usually described in monetary terms: how much money a meat farm loses because of cattle infected with BVD. If Lucas had BVD, he could die.
As Ruby and rescuers waited for the results of the test, Lucas gained strength from the medicine and nursing from his mom, who was always by his side.
Human visitors also hoped Lucas would recover. Poplar Spring's Farm Manager Dar Vervenka even took a little video of Lucas and Ruby when she visited them in their hospital stall.
Soon, everyone heard some really good news: The BVD test came back negative.
It turns out that Lucas was just struggling with a nasty case of pneumonia.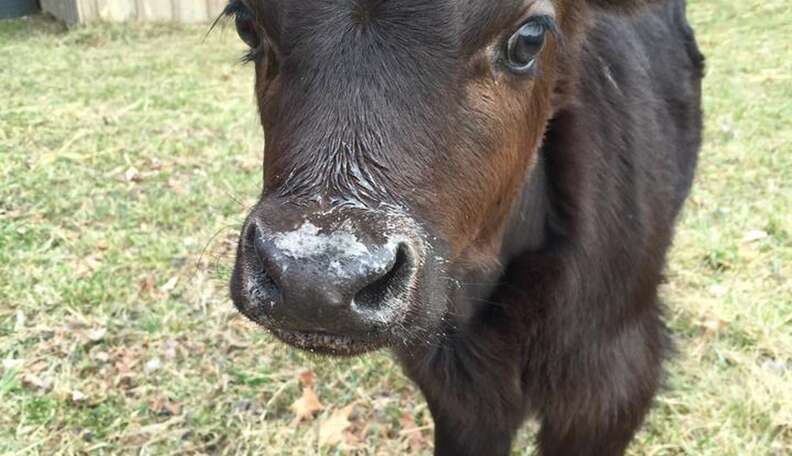 But he's already doing much better. And soon he and Ruby will be on their way home - all thanks to Ruby, and her sharp maternal instinct, which detected the fever early.
"Many people think that cows are not intelligent animals," the sanctuary wrote, "but they are really very smart."