Sometimes, there simply isn't very much that can be done to help someone - but that doesn't mean that the effort isn't worth it.
Hope for Paws, a rescue organization in California, received a call about a dog who had recently given birth to three puppies in the middle of a college campus. Dottie, as she was later named, was protecting her babies in a narrow trench that ran along a fence.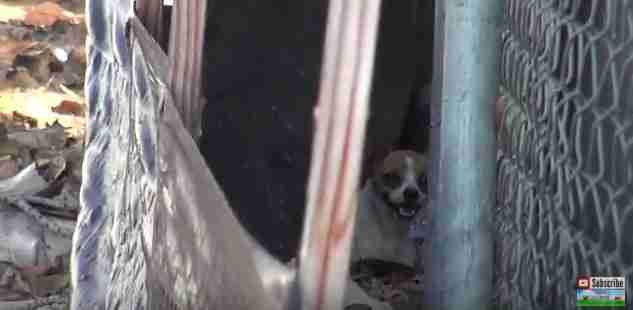 When she got a first glimpse of her rescuers, it almost seemed like she knew why they were there.
The rescuers tried to move quickly, as they knew the puppies needed medical attention ASAP. After a few tries, they were able to catch Dottie, who ran from her babies when she became frightened of the strangers invading her makeshift home.
Dottie was terrified but allowed the volunteers to gain her trust at least a little bit, because as Eldad Hagar, the founder of Hope For Paws, put it, "With three puppies' lives hanging in the balance, we had to move quickly."
After she had calmed down, Dottie was carefully held as one by one her three puppies were rescued from the trench and brought to her. They were named Ivy, Timon and Pumba.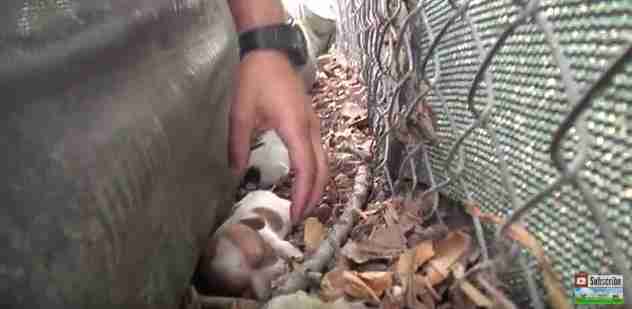 Unfortunately, it was soon apparent that Ivy, the only little girl, suffered from hydrocephalus, which means water on the brain. After being checked out, it was decided that Ivy's condition was too severe and she was in too much pain - she needed to be put down.
After Ivy had passed, she was brought to her mom Dottie to say goodbye.
Clearly heartbroken, Dottie cuddled with Ivy one last time before saying her final goodbye, and preparing to move on and embrace her newfound second chance.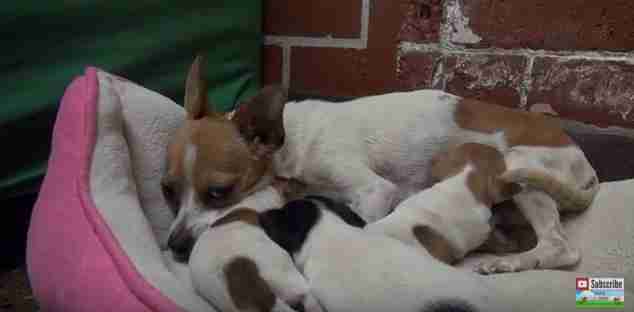 The other two puppies, Timon and Pumba, both turned out fine, and within eight weeks had grown into healthy, very adoptable puppies.
Dottie and her family are now looking for their forever homes, and after the heartbreaking tragedies they've had to endure, all they want now is the reassurance that none of them will ever be in danger again.
To adopt Dottie, Timon or Pumba, you can check out the Doggie's 911 Rescue website to get the process started.
Check out the full rescue video below: