People Drive Across The Country To Rescue Unusual Senior Dog
The first time I saw a photo of Mojo, a border collie mix, he was just one of four other dogs I knew of with the same rare genetic condition: short spine syndrome.
I didn't want him to become another shelter statistic just because of the way he looked, so I considered adopting him - my dog Cuda also has short spine syndrome. But, shortly after his picture was posted to Facebook, a woman named Maria Rall adopted him. I got in touch with her and, with nothing else but our dogs in common, began a Facebook friendship. I enjoyed looking at the pictures she shared of Mojo and was comforted by the fact that Mojo was in a loving home.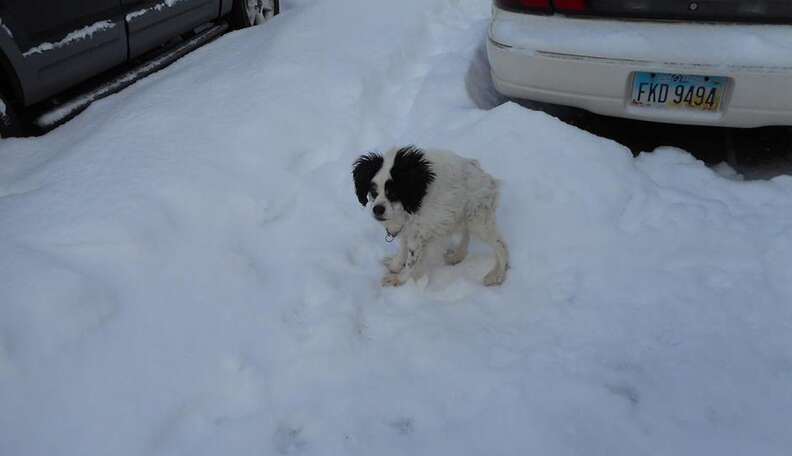 That all came apart several months ago when Maria's daughter, Donna Rall Jirousek, reached out to me to share the news that her mother had been diagnosed with terminal cancer. Donna asked for my help in finding Mojo a new home when the time came. I knew this would be a challenge because Mojo was already 10 years old, in addition to having this rare, genetic disorder. But I committed to helping Maria, just as Maria had committed to Mojo four years earlier.
In late April, Donna informed me that Maria had passed away. Although I only knew her through social media, I was saddened by the loss of someone with whom I had a special bond. I began seeking a new home for Mojo right away, by posting the news on my dog Cuda's Facebook page.
Soon, a woman named Rachel Bryant reached out to me - she lived only two hours from Mojo and was able to take him into her home for as long as was needed, even if it meant forever. She fell in love with him instantly.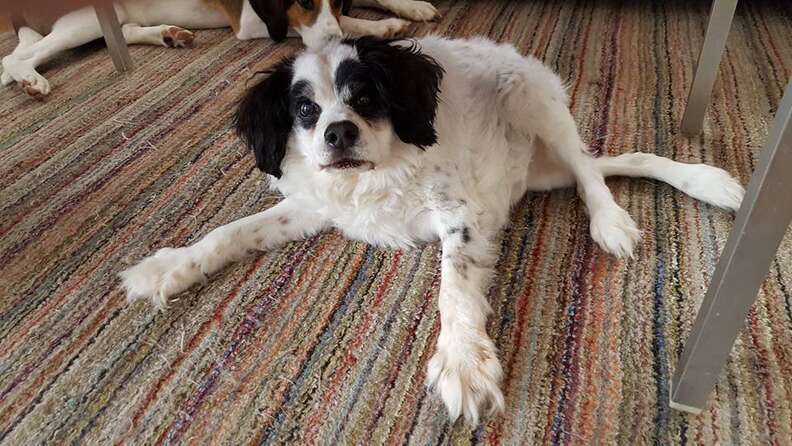 A visit to the vet would bring new challenges to the person who would ultimately adopt Mojo. He was in serious need of vaccinations and dental care, including several tooth extractions, and he hadn't received his regular exams for a long time.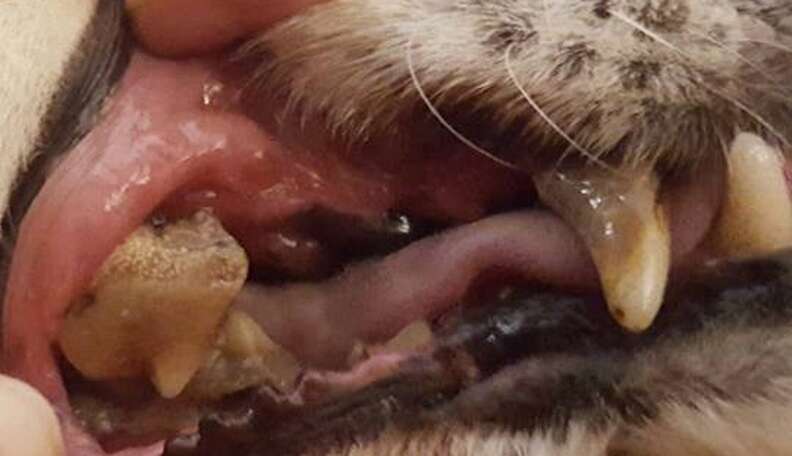 He had only been with Rachel a couple of days when Dr. Robin Stamey, a veterinarian in Florida, asked me about Mojo. She and her wife, Page Walker, had recently lost one of their senior dogs and they were ready to save a new life. I put Robin in touch with Rachel and they worked out a road trip that had them meeting up in Tennessee.
With tears flowing, Rachel handed Mojo over to his new mom, Robin, who then made the trip back home, ready to give Mojo the stability he needed to live out his senior years. Mojo acclimated well, despite being in his third home in just two weeks.
Mojo is now loving life with his new moms, their cats and his dog siblings, Gracie and Bizzie. "He has the biggest paws I've ever seen," Robin tells The Dodo.
Recently, Mojo had X-rays taken during his vet visit to Town & Country Animal Hospital in Ocala, Florida. The results might've been surprising to most, but were actually typical of a dog with short spine syndrome, where the spine is literally shortened but causes no pain. Regardless, he became an instant celebrity among the staff.
He'll also be having dental surgery soon, according to Robin.
Mojo's journey from a shelter to losing his beloved owner and now finding the love of a new family is complete.