Beloved Lion Killed Because People Wouldn't Leave Him Alone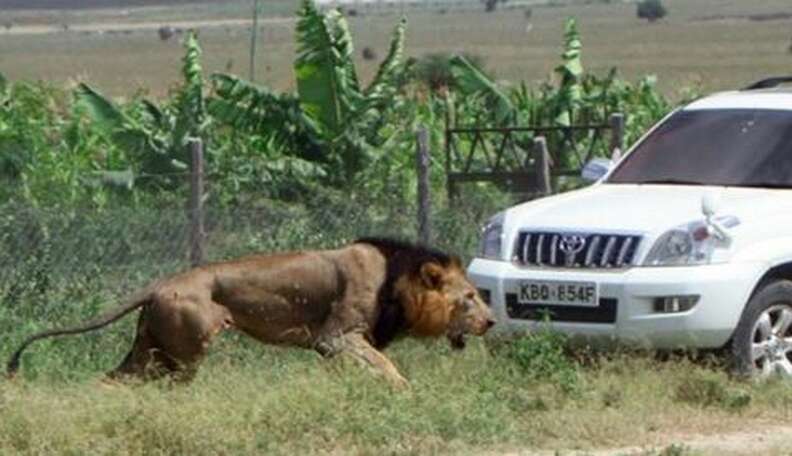 <p><a href="https://twitter.com/MoveTheWorld/status/715495141050552320" target="_blank">Twitter/Animal Protection</a></p>
<p><a href="https://twitter.com/MoveTheWorld/status/715495141050552320" target="_blank">Twitter/Animal Protection</a></p>
A lion named Mohawk, one of the most beloved big cats in Kenya, was killed Wednesday. He escaped from Nairobi National Park and ended up injuring a bystander - so wildlife rangers shot him.
WARNING: Graphic images below.
The lion, who earned his name because his mane is reminiscent of a punk-rock haircut, was a real crowd-pleaser at the park, the New York Times reports. He was 13 years old.
The Kenya Wildlife Service (KWS) explained on Twitter Thursday that it sent a veterinary and security team to the area where Mohawk was found, about 35 miles south of Nairobi. The team was not equipped with tranquilizers - only rifles.
A second team was on its way with tranquilizers as the first group stood guard. A crowd soon gathered to gawk at Mohawk, which "brought about a visible agitation in the lion due to the rowdiness and size of the crowd." An estimated 400 people ended up watching the increasingly dramatic scene.
Mohawk grew more and more agitated and charged at a cluster of people, injuring a man on a motorcycle, the Associated Press reports.
That's when the officers shot him "to avert injuries or at worst, deaths to members of the public," according to KWS.
The news of Mohawk's death prompted swift internet outrage, echoing concerns about another beloved lion you may remember named Cecil.
People were not pleased with how this was handled.
"It's a lion's natural instinct to protect itself if threatened, which Mohawk was forced to do," World Animal Protection said in a statement Thursday. "It is tragic that his life ended this way, and like many, we want answers of why rangers were not prepared and ready to protect Mohawk."
The following video captures Mohawk's final moments:
Meanwhile, in South Africa, a lion named Sylvester may also face death after escaping from Karoo National Park.