Miza Found? The Long Afterlife Of Our Work In Virunga
This is the second installation in the story behind Orlando von Einsiedel's breakthrough poaching documentary Virunga which is released on Netflix today. Read the first part here.
Let's fast forward a couple of years to 2009, when Peter sent me a few photographs he had taken of a beautiful young girl named Tiva Moller, then six years old, on a visit to the daughter of a friend, Richard Moller, who runs the Lewa Preserve in Kenya. All Tiva wanted was a pet dog, but dogs were not allowed on the Lewa Preserve. But instead, Tiva ended up with an adorable baby pet rhino named Lola. They would eat together, sleep together, and even take mud baths together-every kid's fantasy. Based on the photos Peter had sent me, I asked him if he could shoot more -enough for another book that became another one of our books with Scholastic, entitled "Lola & Tiva." This charming story of a girl and her inseparable baby rhino companion almost didn't need any words. Peter's stunning pictures became the basis of what has been described as a "non-fiction fairy tale," and a favorite of hundreds of thousands of young readers.
Ironically, Richard Moller would move on from Lewa to running the Tsavo Trust, also in Kenya, whose expansive territory is twice the size of Israel. Tsavo serves as the home to the largest remaining population of "Tuskers," elephants with highly-prized ivory tusks that literally reach the ground. This past June the largest Tusker, named Satao, was senselessly killed by ivory poachers with poisoned arrows. Satao, by many accounts, was one of, if not the largest, bull elephant on the planet. He was one of the dozen bull elephants at Tsavo whose symmetrical, long tusks weigh 100 pounds each. So rare are these elusive specimens that they unfortunately have become the prime targets for sportsmen and ivory poachers.
Moller, a dedicated preservationist, and the Tsavo Trust, work closely with the Kenya Wildlife Services. Together they are overseeing the most ambitious elephant preservation program and the world's last best hope to save these magnificent creatures. Richard and WCS personnel are forever tracking the movements of the elephants across Tsavo's 1,000 square kilometers. from his piper cub airplane.
Shortly after taking the photos for "Lola & Tiva," Peter left the BBC and joined Al Jazeera. He definitely had a high tolerance for risk. His stint at Al Jazeera would lead him to Egypt to cover the unrest there. He was a highly respected journalist, having won the prestigious Peabody Award for his work in Somalia. In December 2013, Peter found himself with the other Al Jazeera journalists arrested as "suspected terrorists"-they had been interviewing the Muslim Brotherhood, which has been deemed a crime in Egypt. So much for freedom of the press! They were imprisoned, and it was months before formal charges were even brought; their crime actual was portraying Egypt in an unfavorable light.
Emmanuel De Merode
On March 4, 2014. I received an unexpected email from Emmanuel De Merode:
Dear Craig, it has been a long time. I wanted to reach out, after what is probably an unreasonably long silence on my part, because I have some friends who recently completed a film on Virunga. Your colleagues at the Tribeca Film Festival have been extraordinarily supportive and helpful with the world première, and I realize that this was certainly your doing. I am extremely grateful for that. I don't know if you were able to see the rough cut, but it is a film that will, more than anything else, determine the future of the park. We couldn't have hoped for a better launch for the film.
For my part, I am still working as a park warden in Virunga, and I still have the most extraordinary team of rangers. It's up and down, but your gorilla, Miza, is well and now almost adult. Interestingly, she left the Kabirisi group and joined a wild group, so it is much harder for us to see her, but one of the rangers thinks he saw her with a baby. She has opted for a life deep in the forest far from human contact. It's something we can sympathize with and understand... You should come, one day, perhaps you'll find her.
OMG! After seven years Miza had been found! And she had a baby! And now a film about Virunga was going to premier at the festival!
Two weeks later Emmanuel emailed again and asked if I would introduce the film and one of the film's key backers and his good friend -- conservationist, philanthropist, farmer extraordinaire Howard Buffett. I had had the privilege of spending the day with Howard back in 2008 on his farm in Decatur, Illinois. No one person knows more about mountain gorillas or has done more to help save them than Howard. He puts both his wallet and his life at risk trying to help these majestic creatures survive. Howard does not mess around when it comes to his mountain gorillas!
On my visit with Howard we talked about the root causes of the gorilla crisis: partly about corruption, partly charcoal, partly the warlords, and partly poachers. We even came up with a "plan" to remove one of the great destabilizers, the warlord General Nkunda, who had brought much-needed eco-tourism in Virunga to a grinding halt. Rebel soldiers parading around with AK 47s usually don't make it into the tourism brochures. The ICCN Park Rangers, which Emmanuel De Merode was now running, who are charged with protecting the gorillas, were expelled from the Park by Nkunda and his thugs. Nkunda was ultimately arrested in 2009.
As I watched the screener of Virunga so I could prepare my remarks, I came across one of the more pleasant shocks of my life. Rangers identify mountain gorillas by their nose prints. While I was watching the final scene of the film, there is a close up a grown gorilla's face peering out from the bushes. The gorilla's nose print was clearly visible when I hit the pause button on the DVD player.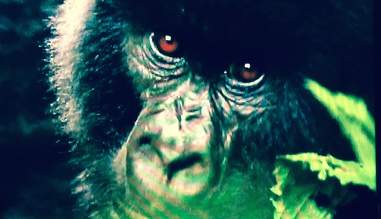 There she was-it appeared to be a close up of Miza. I don't know if anyone else had ever noticed, but I sure did-I could simply tell it was her by the immediate breakout of goosebumps.
The world premier of Virunga at the festival was scheduled for April 17 . I was all ready to make my intros. Without spoiling the plot of the film, this documentary goes deep undercover and exposes severe corruption in the DRC and in Virunga that endangers the future of mountain gorillas and the entirety of this world heritage site. The emotion of seeing Emmanuel, one of the key protagonists in this amazing documentary, was like watching Lawrence of Arabia. The filmmaker and remarkable journalist also endured grave personal danger in making this film, but no one comes off more heroically than Emmanuel, who stands his ground as the park is being invaded by the warlords and their armies, all caught on film in real time. Over the past fifteen years, about 150 park rangers have been killed protecting the mountain gorillas. As do all the park Rangers, Emmanuel lives every day in grave danger-from the corrupt corporate interests to the war lords and poachers and, yes, even to his own government, who he defied by risking his life for a higher cause.
With Howard Buffett and filmmakers at the World Premier of Virunga.
But then next shock hit: the danger of Emmanuel's occupation was no longer a theoretical statistic. On April 16, the day before the premiere at the festival, we got word that Emmanuel had been shot four times in an assassination attempt. He would survive, but the corrupt forces were clearly behind the effort to eliminate their most serious impediment, Emmanuel De Merode, who would bravely announce on camera to his rangers, delivered with the same passion of Shakespeare's Crispin Crispian speech in Henry V, that this would be the day they stand together to hold back their adversaries as long as they could. There were guns and mortar shells firing, all being filmed in real time. Emmanuel knew they could not hold out for long, but he announced to his men that he would be last ranger to leave the park.
A few minutes before I was going to make my introductions at the world premier, we decided that I would not mention the assassination attempt in my remarks before the screening. The audience would find out after the film played in the Q &A.; The film is hard enough to watch without adding any the extra drama, such as an attempted assassination of the film's key protagonist.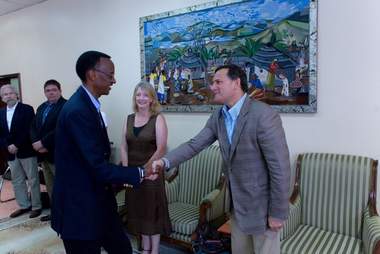 With Rwanda's President Paul Kagame at a book launch; going to the small nation's next neighbor, the DRC, would have been too dangerous.
The film is an amazing documentary, and anyone interested in the impact of conservationists around the globe can must see it. It certainly has already begun to change, and will continue to change, the future of the Virunga National Park and the mountain gorillas. As Emmanuel De Merode recovers from an assassination attempt, he continues as the defender of last resort for the mountain gorillas. He has displayed courage that I never would have expected from someone who was running a NGO at the time we met.
Just as Emmanuel and his park rangers might change the world, so Peter Greste and the other 14 journalists incarcerated in Egypt might change the world as well. This is how activism works. Small groups of committed individuals, as Margaret Mead tells us, actually do change the world.
Yet Peter Greste might remain in prison in Cairo for the next seven years as his family tries every avenue possible for his release. He, along with two other imprisoned Al Jazeera reporters, has become a living symbol across the globe for freedom of the press.
Steven Pinker has said that the world is safer now than any time in human history; there are fewer violent deaths than ever before. Yet the world still feels like a very dangerous place. I guess it depends on who you know and what they do for a living. But we often take for granted the inherent risks and discount the dangers for those truly trying to make the world a better place.
We all have hopes and dreams; my hope is that some day soon I can join up with Emmanuel and Peter for a reunion expedition back into the Virunga National Park when it is no longer the heart of darkness. My daughters, who were too young for the journey in 2007, could join us on this expedition. If Emmanuel can locate the gorillas and Peter can take the right photos we'll be able to publish the sequel to "Looking for Miza."
Hopefully, Richard Leakey's concern about the future of the mountain gorillas will have turned out to be wrong and the endangered mountain gorillas can roam about safely in the midst of the world's most beautiful place. And if we are really luck Peter might even snap one of his great photos of a elusive orphaned gorilla, once lost in the jungle, now holding her baby - in which case the book will simply be entitled: Finding Miza.