Pit Bull Is Put Down The Day Her Family Comes To Get Her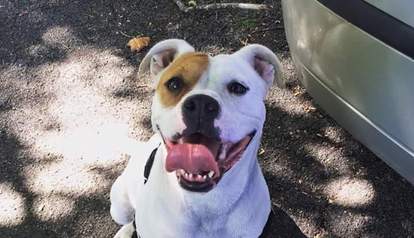 <p><a href="https://www.youtube.com/watch?v=XN5TYT0XfRg">YouTube/HectorTV</a><span></span></p>
It's every pet owner's worst nightmare: Janet Mabry found out her lost dog, Sadie, was at a local shelter, but when she went to pick her up, her beloved pet had already been put down.
Sadly, this story is not as unusual as it might seem.
Sadie Mae, a white and brown pit bull, went missing from her East Nashville home in late September after Mabry left her tied up in their yard. She had a collar but no microchip, WKRN reports.
For days, Mabry searched for Sadie, hoping she would return on her own. Her 6-year-old daughter made fliers to put up around the neighborhood.
On Saturday, finally, Mabry saw a post on Facebook that a lost dog had been found in a nearby park and taken to Metro Animal Control - it was Sadie.
But the shelter had already closed for the day and wouldn't reopen until Tuesday. So early Tuesday morning, Mabry showed up to bring her dog home.
But she was told that the mandatory 72-hour "stray hold" was up, and Sadie had been euthanized. Mabry was shocked.
"This wasn't an easy decision for the staff and this certainly isn't an easy situation for the owner and the family, and we do apologize," Lauren Bluestone, director of Metro Animal Control, told WKRN.
Bluestone explained that their tests had indicated that Sadie was aggressive with other dogs and they deemed her "unadoptable." Because Mabry hadn't filed a lost pet report with the city, animal control marked her as a stray.
Mabry is brokenhearted, and has yet to break the news to her daughter that their missing dog will never be coming home.
"How do you go about telling a child that their dog got put down?" Mabry told WKRN. "That's awful."
This situation is a terrifying one - a pet with a home and a family euthanized - but every day, thousands of dogs without families to call their own are killed for the same reasons as Sadie.
And shockingly, this mistake isn't quite as unusual as it might seem - last year, a Philadelphia woman's beloved 15-year-old dog was picked up as a stray and euthanized a day later by local animal control ... even though she had a working microchip.
The short length of the mandatory stray hold at Metro Animal Control also contributed to Sadie's unnecessary death. "Seventy-two hours is not a lot of time to find an owner," Amanda Kennedy, director of Boston Animal Care and Control, told The Dodo.
In Boston, for example, the state requires a stray hold of seven days. "We have a very high return rate," Kennedy said. "The best thing we can do is lobby for longer stray holds."
Kennedy knows all too well that shelters often go above and beyond to reunite missing dogs with their families, and can imagine the toll a tragic mistake like this one might take.
"The worst thing for someone working in animal welfare is to feel like you didn't do enough to get that dog home," she said.
Cowgirl, a 3-year-old Lab, was mistakenly euthanized in a Florida shelter in 2013 because of a clerical error: a missing arrow on her papers that should have indicated she had been claimed.
Her devastated owner, Danielle Riggens, who was set to pick her up the next day, told USA Today, "The director got on the phone and said, 'Danielle, I'm so sorry, but your dog was accidentally euthanized this afternoon.' I said, 'You've got to be kidding me. That's not my dog. That's not my dog.'"
Riggens vowed to campaign to make it harder for mistakes like this one to happen, but clearly, as Sadie's story shows all too well, misunderstandings can mean the difference between life or death in a shelter.
See more of Sadie's story below: