Caged Bird Was So Bored She Plucked Out Her Feathers
Miss Jade may look a bit different from your average blue and gold macaw, but that doesn't stop her from being the most glamorous girl on the block.
Exotic Bird Rescue of Oregon
The parrot, who turns 21 years old in June and is a natural in front of the camera, joined the Exotic Bird Rescue of Oregon foster network last April after living in the same home her entire life. According to Roo Nitz, a board member of the rescue and Jade's current foster mom, the husband of Jade's previous owner did not like her.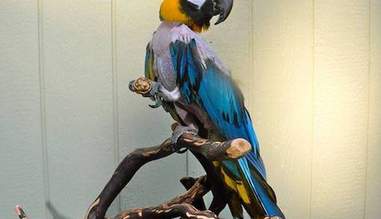 Exotic Bird Rescue of Oregon
"I think it eventually came down to it's me or the bird and the woman chose her husband," Nitz told The Dodo. Nitz said that Jade first arrived in a barren cage. She doesn't know how to play with toys, suggesting that she may have never had any in her life to begin with.
Exotic Bird Rescue of Oregon
"There's lots of reasons they pull their feathers out," Nitz said. Reasons include itchy skin from allergies, other birds pulling at feathers when mating and puberty, but Nitz guesses that Jade was so bored that she turned to feather-pulling for entertainment.
"Obviously, [her owners] couldn't get her to stop, so she's a naked bird," she said. Nitz said that Jade's feathers won't be growing back in, but Javi, another bird with a similar situation, is starting to see some improvement.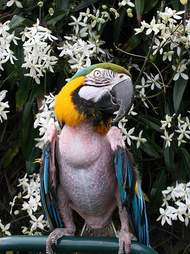 Exotic Bird Rescue of Oregon
"The cool thing about Jade is that she may not have the best past, but she is the sweetest bird," Nitz said. "I think she was just starving for love. On the first day she was in our house, she crawled out of her cage and came and found me."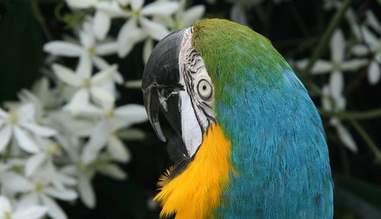 Exotic Bird Rescue of Oregon
But that's typical Jade behavior for you - she loves following Nitz around - even when she's outside (typically in the shade, since she's more likely to get sunburned). To make up for her lack of feathers, there's a heater near her cage when she's indoors. Nitz said she considered getting Jade sweaters, but that Jade probably wouldn't like them.
Exotic Bird Rescue of Oregon
"She views me as her mate, so she pukes for me, which in parrot language means 'I love you,'" Nitz said. So in addition to being a beauty, Jade is also quite the romantic.
"She likes if you beatbox," Nitz said. "She dances and sings, it's really cute."
What Jade now needs is a permanent forever home. Nitz, who takes care of her own three personal birds along with other rescues, hopes that a special family will come along who will appreciate Jade to the fullest.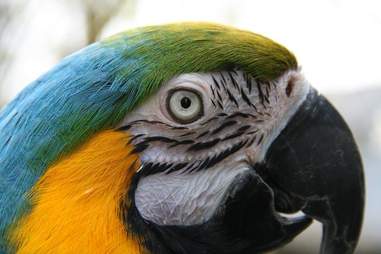 Exotic Bird Rescue of Oregon