Little Boy Donates His Savings For Horse About To Lose His Leg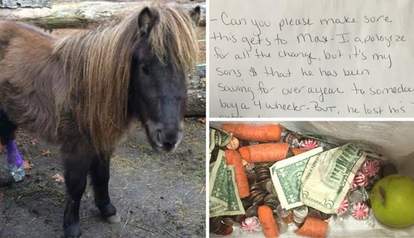 No one knows why Max took a bullet to the leg.
He was just hanging around his owner's house in the town of Acushnet, Massachusetts, like he's been doing ever since Julie Nightlinger adopted him nearly two years ago, when he was suddenly shot.
This seemingly random act of malice nearly cost the 2-year-old miniature horse his life.
That is, if not for hundreds more random acts - of kindness.
After being shot in early December - an incident local police are still investigating - Max needed an artificial leg desperately. His injured leg wasn't salvageable. The procedure was too costly for his owner, so she set up an online fundraising page.
The GoFundMe page has so far raised more than $12,000, at least enough for Max to get a new leg - and another fresh start at life.
Even Max's transportation from his home to the Myhre Equine Clinic in Rochester, New Hampshire, was covered thanks to a generous donation. The Animal Rescue League of Boston stepped up to pave the way.
Among the donors? A 5-year-old boy named Cole, who pledged his savings, along with a veritable horse's delight of apples and carrots, to help Max.
According to a letter to Max's owner, the boy had been saving up to buy his own horse after his old one, Cowboy, died.
"He lost his one-eyed pony a week and a half ago," the letter states. "His heart still aching and tears still falling, we couldn't save his Cowboy - he hopes this will help save Max."
Incredibly, it's not the first time Max, who weighs just 150 pounds, was in need of a lifeline.
Nightlinger first rescued him from an abusive situation when he was just 4 months old. Now, he's simply family.
"One of his favorite things to do is to lay by the bonfire with his belly out enjoying the heat," Nightlinger writes on the GoFundMe page. "He loves going for walks, and exploring the garage and trying to go upstairs! He's more like a toddler than a miniature horse."
It's a mad, mad world, Max. But sometimes, life is a carousel of kindness. And as long as there are little boys with mammoth hearts like Cole, it's a world worth being a miniature horse in.