"Those are really mine? They get to stay here?" Matix Eklund asked his parents and grandparents when he received his third birthday gift.
Bert and Ernie, the two mini horses Matix's grandmother, Frankie Eklund, gave to him that day really were all his.
"He thought they were super cool and started to tell everyone about his minis," Brandi Eklund, Matix's mother, told The Dodo.
The celebration was a great one, especially considering that Brandi and Casey Eklund were told by doctors 19 weeks into the pregnancy that Brandi's baby most likely would not survive.
A rare syndrome
Matix was born with a disorder known as thrombocytopenia absent radius syndrome (TARS), which affects Matix's arms, legs and even his platelets. He has had four surgeries on his legs and will soon have another to help rotate his knee caps forward, which will help straighten and strengthen his legs. He currently cannot walk for long periods of time, and has trouble balancing without arms, so when he falls he cannot catch himself.
Because of low platelet numbers, which he must get checked once or twice a year, there is a possibility of hemorrhaging if he falls. "His blood does not clot," Brandi said. "If he gets cut he keeps bleeding and doesn't get a scab."
Frankie's hope was that the mini horses would be therapeutic for Matix. "He had surgery, and we thought we really needed to get a special present for him," Frankie said. Matix loved horses and Frankie hoped she could not only bring them into his life, but possibly train them to be service animals for him. Equines have been used for a number of therapies with various benefits. The U.S. Department of Justice's Americans with Disabilities Act (ADA) regulations were revised in 2011 to include a provision for equines as service animals.
Establishing a bond
From day one Matix took to Bert and Ernie. Frankie trained the horses every day and had Matix at her side up to twice a week. "He got to be part of this whole journey," she said.
A turning point for Matix and the minis came about nine months after the horses joined the family. "He said, 'Mamaw [Matix's term for grandma], I'm going to go in with my minis,'" Frankie said. "He went out with the horses, and they followed him around and he petted them. Anytime prior to that, I never held him back, I always wanted to be beside him. Now I trust that he can be alone with them."
They make a great team
Bert and Ernie have been certified to be therapy animals through Pet Partners, a nonprofit organization that registers handlers and animals of various species as volunteer teams to provide animal-assisted interactions in places such as nursing homes, hospitals and schools.
However, Frankie's ultimate goal is to help them become service animals specifically for Matix. "As therapy animals, they enhance people's lives, just like a therapy dog," Frankie said. They provide psychological therapy and socialize with a variety of people, unlike service animals, who are trained to perform tasks that help make life easier for their own handler. After they become service animals, Bert and Ernie will help Matix pick up objects, for example, and possibly open doors.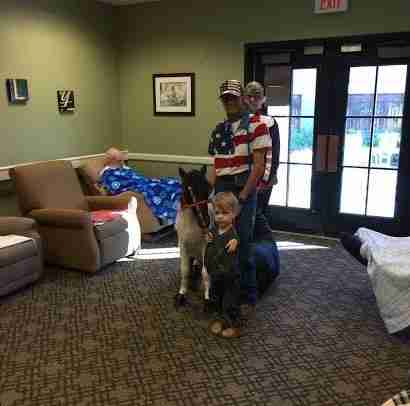 Frankie eventually spoke with and got approval from her supervisor at Woodmark Sun City, an assisted living community for the elderly in Arizona, where she is the resident program director, to bring the horses to the center as therapy animals. Frankie suspected bringing Bert and Ernie to Woodmark would be beneficial not only for the horses, but for the center's residents and Matix as well.
"They can go in elevators, and they can go up and down steps," Frankie said. "Until you put them in a situation, you don't know how they are going to react, so that's why I'm trying to take them as many places as possible. Those are all things they will have to do for Matix." As service animals, they would have to be comfortable doing things such as entering buildings and adjusting to being in crowds, all things that will help Matix be safe in those same situations.
Now, when Frankie takes Bert and Ernie to work as therapy animals, she also brings Matix along to help him feel more comfortable about being with the horses in public places. "It's an added bonus," she said. "Matix has such a personality, and they all do so much for the residents. Even at the age of 4, he is giving back already."
The response from Woodmark residents have been great. "There was one gentleman who had not spoken in two months," Frankie said. "He said, 'Oh, my gosh,'" when he saw Bert and Ernie.
Incorporating playtime with training
Frankie uses games to help train the mini horses to become service animals. Matix will play basketball with Bert using a little ball with a handle, which Frankie places on a cone so Matix can pick it up. He throws the basket, makes a hoop and then places it back on the cone. Bert then does the same. "This is how I am kind of getting Matix to train with them, bond with them better and have them do things for him," Frankie said.
Bert is the easier one of the pair to train. He has a stronger bond with Matix, who will receive a kiss from the horse if he asks.
He has gained confidence
Bert and Ernie are helping Matix in the best way. "He's so much more confident when he's around the minis," Frankie said. "He's conquering things with his minis and without them. I see the camaraderie."
Brandi also sees the improvement in more than just Matix's confidence. "They make him more personable to talk with people about his syndrome," she said.