The media frenzy surrounding a possible lion sighting in a suburban Milwaukee neighborhood has residents panicking - and on Tuesday a sweet pit bull became a victim of the hype when a nervous resident, thinking he had spotted the lion, shot him in the leg.
"Everyone's freaking out and there's really no reason for it," Milwaukee Area Domestic Animal Control executive director Karen Sparapani told The Dodo.
When Sparapani first got a call about a "lion-ish creature" on the loose earlier this week, she was sure it was a case of mistaken identity. "Working in animal welfare, people see the wrong animals all the time," she said, adding, "I can't tell you how many times we've gotten a call about a weird dog and it turns out to be a goat."
But, according to Sparapani, biologists and experts who examined tracks left by the suspected lion confirmed that there was, in fact, a big cat in Milwaukee.
Sparapani explained that the animal could be a confused mountain lion who mistakenly wandered into a more densely populated area, or, more concerningly, an exotic pet whom someone accidentally (or intentionally) turned out into the streets.
Either way, news reports have hyped up the fear factor in the city, and on Tuesday evening Sparapani got word that a pit bull had been mistaken for a lion and shot.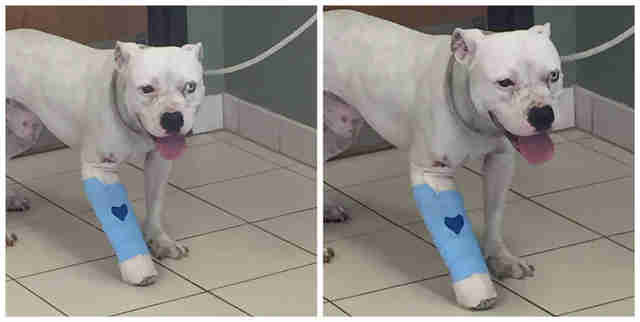 Animal control rushed the injured pittie to the vet - luckily the bullet left him with only a severe fracture in his leg. Now the dog, whom animal control officers have named Pete, is resting up.
"He's actually the sweetest dog in the world, couldn't be more gentle," Sparapani said. "He's going to need that cast on for six weeks."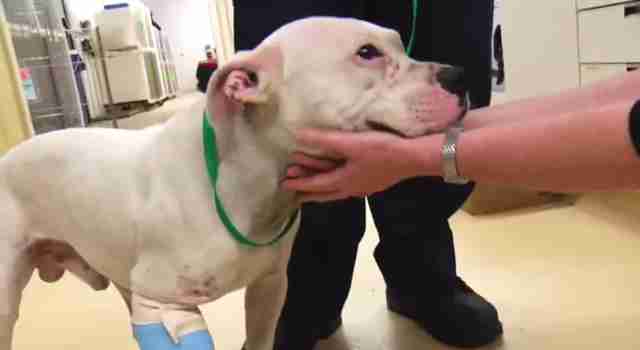 Pete's owner will pick him up Thursday afternoon, but what happened to Pete could easily happen to any animal loose in Milwaukee this week.
Sparapani urges caution, explaining that, even if there's a big cat wandering the city, he's likely scared and uninterested in humans. No one needs to have their firearms at the ready.
"An innocent bystander or someone's companion gets injured when people panic," she said, adding that Pete is "a great dog and he didn't deserve this, no dog does."