After Years Apart, Heroic Military Dog And Her Marine Are Overjoyed To Be Together Again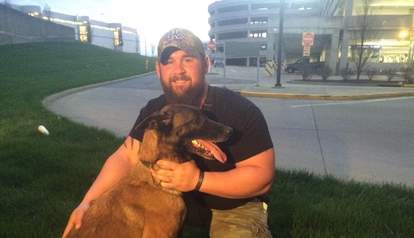 <p> <a href="https://www.facebook.com/MissionK9/photos/a.735344876483388.1073741827.142463912438157/1015826605101879/?type=1&theater">Facebook/MissionK9Rescue</a><span></span> </p>
Hill was finally able to bring Bbazy home to him, thanks to help from Mission K9 Rescue, which works to reunite military service dogs with their handlers. "When you see them reunited with their dogs, you see a piece of them come back together," Kristen Maurer, president and co-founder of Mission K9 Rescue told The Dodo. "It's just the most beautiful thing."
On Thursday, Hill waited expectantly at the airport for 10-year-old Bbazy to arrive so he could bring her home forever.
As soon as they saw each other, it was clear that Bbazy and Hill were thrilled to be reunited. "How are you. How are you, you're so skinny. You're so skinny," Hill whispered to her. "How are you baby?"
Hill and Bbazy are home in Kentucky now, and Bbazy will spend her retirement cuddling and playing with her lucky human. Hill has already called Mission K9 Rescue to let them know that Bbazy is settling in perfectly, "They're doing great," Maurer told The Dodo, "She's so happy, she loves the grass."