When Army Specialist Tyler Roberts and his bomb-sniffing dog, Cpl. Donna, were in Afghanistan together, the two were inseparable.
"We were there for a year together, spent 24 hours a day together," Roberts told Denver's KUSA.
But when his tour was up, Roberts returned to the U.S., and had to say goodbye to his best friend. He believed that Donna, a 6-year-old Belgian Malinois, was being retrained and would serve another tour of duty with a different handler - but the truth was much more tragic.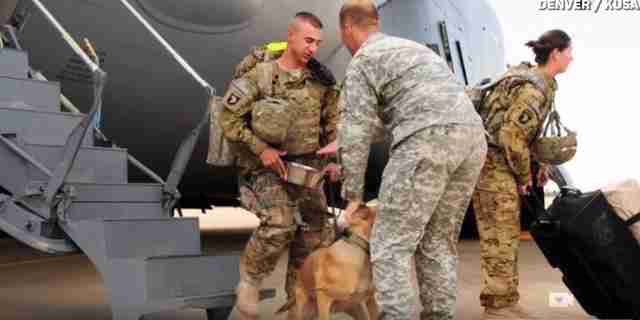 Donna's program had actually been retired by the U.S. military, and she was sent to work for a private contractor.
But instead of traveling the world as a working dog, Donna and 11 other former military dogs wound up abandoned in a kennel in Virginia.
Without knowing when or if someone was coming to claim the dogs, the kennel's owner, Greg Meredith, looked after Donna and her fellow doggy heroes for 17 months - spending over $100,000 of his own money to care for them.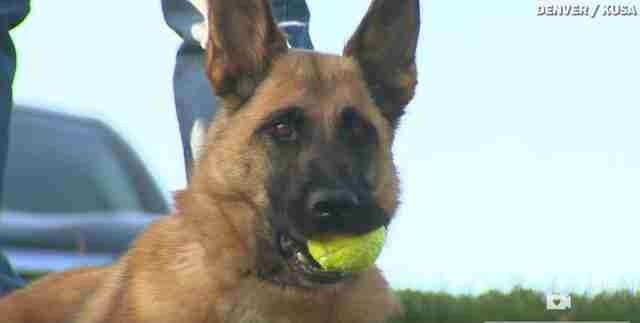 While Donna was waiting in boarding, Roberts was fruitlessly trying to find out what had happened to her. It wasn't until Mission K9 Rescue, a nonprofit that works to reunite military dogs and their handlers, got involved that the pieces finally came together.
"While these dogs are sitting in a kennel, their handlers are desperately looking for them," Mission K9 Rescue's Kristen Maurer told The Dodo.
Mission K9 Rescue, in partnership with the United States War Dogs Association, picked up the 12 dogs in Virginia and drove almost all the way across the country, to Denver, Colorado, to reunite as many as they could with the handlers they had tracked down.
Maurer was watching the emotional moment when Donna and Roberts were finally reunited - two best friends finally back together again.
"I say it over and over," Maurer told The Dodo. "It's the most beautiful sight - there's nothing more beautiful than seeing these guys who love their dogs so much get reunited."
Now Donna and Roberts are settling into civilian life together, and enjoying every minute of it. "She's gonna get the life she deserves now," Roberts said.
See more of their story here: