Cesar, a former military dog who was adopted by the NYPD in February, has finally gotten comfortable on the force -- by getting comfortable with his new handler, NYPD Transit Crime Unit Officer Juan Rodriguez. Like his canine partner, Rodriguez is a military vet, but he never had the chance to work with dogs during his time in the army. Now, he's making up for lost time, and he and Cesar have already developed quite a special bond.
"I think there's no better partner," Rodriguez told ABC News. "I think he's more of a veteran than I am... It is an honor to work with him. It sounds funny to say that I'm honored to work with a dog but I know I can trust him and I feel comfortable knowing that if I go out there, he'll find anything and help save lives."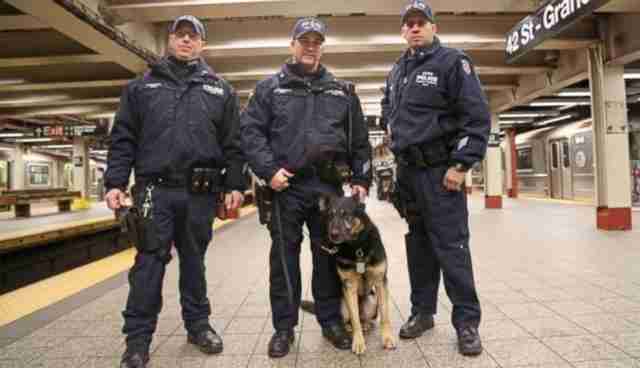 The NYPD reportedly tested 50 dogs for his job before deciding to adopt Cesar, who was deployed overseas three times -- more than Rodriguez, who was deployed twice. The German Shepherd once detected two bombs, effectively saving a Navy SEAL squad. "He's loyal," Rodriguez said. "We bonded right away. He loves my son. I take him home. I can't walk him without my son... It is fun to see them play and to know that my son is going to grow up with him."
Rodriguez said he isn't sure how long four-year-old Cesar will be on the force, but he hopes they get the chance to work together for years to come. "Just like anybody who has a pet, you grow a bond," he said. "He's not only your pet at home but your partner at work."