How One Goldman Sachs Programmer Quit His Job For A Life With Dogs
<p>Kimberly Wong, Eardog Productions</p>
Three years ago, Mike Lam was working as a programmer at Goldman Sachs. Now, he's got up to six dogs roaming around his house in Queens, New York on any given day, and the Wall Streeter-turned-dogsitter is loving every minute of it.
After five years with the investment banking firm, Lam told The Dodo, "I got tired of the office politics and corporate life. I left and then wasn't sure what I wanted to do."
Lam considered joining a tech firm or developing apps. It wasn't until he stumbled upon a dog sitting website called DogVacay.com that he found something he thought he could do. He signed up to be a host, and soon began watching people's dogs.
(Mike Lam)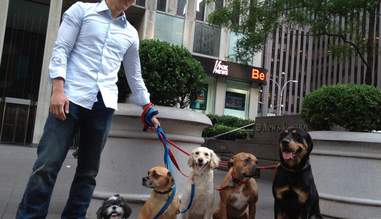 Now, Lam is the site's top host. Dogs are constantly at his house - in the past year, he's only had three days when he wasn't hosting a dog. For $60 per day, Lam takes clients' dogs for long walks, plays with them, and even trains them. He became a certified dog trainer shortly after he began hosting. Lam had never even owned a dog until recently.
"This all totally fell into my lap," he said. "I wanted a dog for my entire life, but parents wouldn't get one. But when my wife and I moved in together, we wanted one. We're [the TV show] 'Dog Whisperer' fanatics. We used to go on dates to dog parks just to look at the dogs." Lam and his wife finally got his own dog, Toby, who gets along well with the other animals.
(Mike Lam)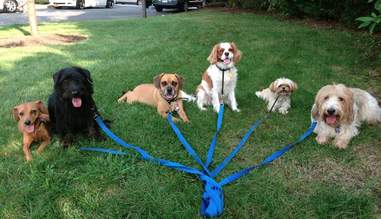 Lam says his quality of life is much better, now that his coworkers are dogs.
"I was much happier playing with dogs all day than I was going to the office," he said.
And he's not the only one getting in on the dog walking business. According to market research, the dog walking industry rakes in $937 million each year, and that number has been growing steadily over the past five years. Over 21,000 Americans identified as dog walkers in 2013, and some estimates suggest there are around 10,000 pet-sitter businesses nationwide.
Lam feels it's important that dogs get the exercise and attention they need, even when their owners are away.
As for Lam, dogsitting has become a full-time, and financially sound, career.
"When I was at Goldman, I couldn't see myself lasting more than two years. But now, if this is my life for the next 40 years, I wouldn't ever look back and regret it."
(Mike Lam)
The Humane Society of the United States recommends that when traveling, pet-owners should either arrange for a responsible friend, relative or sitter to look after pets or board their animal at a previously-inspected and trustworthy kennel.