Survivors Of Michael Vick's Fighting Ring Grow Old And Happy
This is what love does.
It was nearly nine years ago that police raided the home of famed NFL quarterback Michael Vick with a search warrant for drugs. Instead they found 51 pit bulls and substantial evidence of a large-scale dogfighting ring, hidden in a wooded barn behind Vick's home.
In the aftermath, many people viewed the dogs as a threat to public safety and called for them to be put to sleep.
Of the 51 pit bulls rescued from Vick's property, two died in care shortly following the raid and one was humanely euthanized after being deemed "too emotionally and physically damaged" to save. The remaining 48 became the first dogs to not only survive a dogfighting ring, but be given a chance at life after their rescue.
Filmmaker Darcy Dennett tells their story in her latest documentary, "The Champions." Below are five ways some of the dogs have spent their lives since leaving Vick's Bad Newz Kennels.
They work with sick children.
A little distraction goes a long way when you've received a life-threatening diagnosis. That's Jonny Justice above, a former fighter who currently volunteers as a therapy dog. According to his caretaker Cris Cohen, he's not just a distraction, he's "a little kid magnet," bringing smiles and laughter to those who need it most.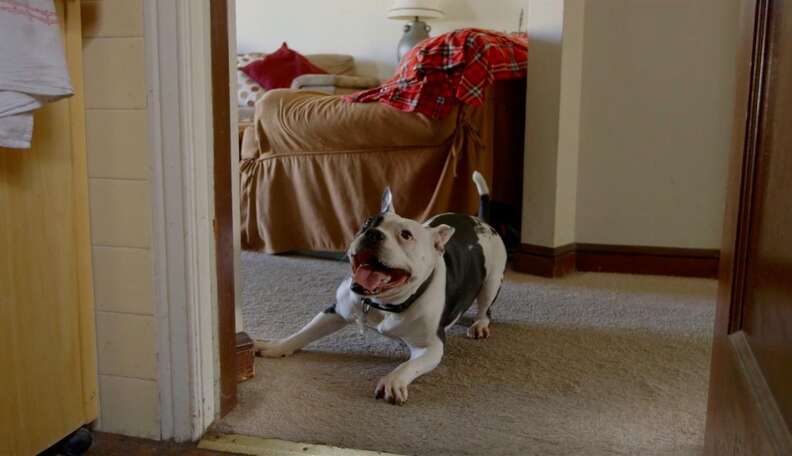 And how could you not smile when you see that face?
They've been honored for their bravery.
Therapy dog Jonny Justice was named ASPCA's Dog of the Year in 2014. He even has a plush toy modeled after him. The dog in the photo above is named Mel, and he received an edible key to the city of Dallas, Texas (just a few weeks after another city councilperson awarded Vick, Mel's abuser, with the same honor).
They are loving machines.
Contrary to popular belief, pit bulls aren't any more or less dangerous than any other breed of dog. When the 51 dogs were rescued from the Bad Newz Kennels on Vick's property, a substantial portion of the dogs were ready to enter foster homes right away. The remaining dogs were placed with rescue groups and sanctuaries, where most of them learned to live peacefully with families. Twenty-two dogs went to Best Friends Animal Society in Utah and several dogs joined BAD RAP rescue in California to receive love and have time to heal.
In the photo above, Cherry Garcia, one of the dogs rehabilitated by Best Friends, enjoys some much-loved cuddling. He now travels the country with his adopted family as a spokesperson for Best Friends.
They became the first fighting dogs to be saved from death row.
If Michael Vick hadn't been such a big star, these dogs might have suffered the fate of countless fighting dogs before them: being kept alive as evidence until the trial ended, then put to sleep. Instead, outcry from both the public and advocacy groups let these dogs become the first survivors to continue their lives after a federal dogfighting trial.
They were scarred, but they weren't broken.
"I don't know how she survived or why she survived, but she did," one dog's caregiver says at the start of the film. Occasionally, some of the dogs will be frightened by a loud noise from the kitchen or even the sight of stairs, but for the most part, these dogs have learned to love life again.
In "The Champions," Dennett decided to not include any graphic footage, or images of fighting or abuse. Instead, the film focuses on the bravery, strength and resilience it took for the dogs to move on.
"The Champions" is now available for download at Best Friends Animal Society and the documentary websites.
Watch the trailer below.