Pit Bull Dad Creates Regal Pet Portraits
Michael Tehrani is a fine artist and animal lover based in Houston, TX. He recently started using his awesome skills to do pet portraits for family and friends, and now on a commission basis. His Instagram account has amassed a large following after tattoo artist Kat Von D reposted his drawing of her cat Piaf on her own Instagram account. Since then he's got his plate full with pet portrait requests and is ecstatic about all the kind compliments of his work from all over the world.
Something cool he does is often posts the works in progress, giving us a unique look into the process from start to finish.
An avid supporter of rescues and shelters Michael donates 10 percent of all commissions to a no-kill shelter of the client's choice. He's a father to two beautiful daughters and now a pit bull named Güero he recently adopted. Visit his website ArtByMT.com to view more work and get contact info.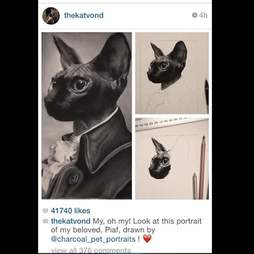 (Instagram/Charcoal_Pet_Portraits)
(Instagram/Charcoal_Pet_Portraits)
(Instagram/Charcoal_Pet_Portraits)