Lolita The Orca's Fans Convince Seaquarium Visitors To Turn Around And Save Their Money
<p> Leonardo DaSilva / <a href="https://www.flickr.com/photos/leonardodasilva/5541125666/" target="_blank">Flickr</a> (<a href="https://creativecommons.org/licenses/by/2.0/" target="_blank">CC BY 2.0</a>)<br> </p>
Unless someone like you cares a whole awful lot,
Nothing is going to get better. It's not.
- Dr. Suess, "The Lorax"
I don't recall ever having protested before Sunday, March 15. I am not, by nature, a confrontational person. When I saw "Blackfish," I knew I had to take action, but what could I do from landlocked Minnesota? I started by recommending "Blackfish" to all my friends in person and on Facebook, and dusting off my Twitter account. But it wasn't until the Sunday before last that I was able to join my first protest at the Miami Seaquarium.
Photo: Animal Activists Network

| Photo: Animal Activists Network
The Miami Seaquarium is where Lolita is. Lolita was taken from Puget Sound in 1970 and brought to the Miami Seaquarium to join Hugo, a male killer whale who had been taken from the same pod a few years earlier. They spent 10 years together in a tank that is too small for even one orca until Hugo killed himself by bashing his head against the tank walls.
For 35 years, Lolita has not set eyes on another orca. She lives in a tank that is as deep as she is long (20 feet) and has very little shade. She, like other captives, is in danger of acquiring mosquito-borne viruses due to spending so much time at the surface of the water - something that doesn't happen in the wild. Her mother, Ocean Sun, is still alive and swimming free in waters of the Pacific Northwest.
A small group of protesters organized by the Animal Activists Network gather every Saturday and Sunday from 12 to 2 p.m. to protest at the Miami Seaquarium. While on vacation in Naples, Florida, I figured this was a great time to join them. I drove over to Miami and arrived a few minutes before noon. I walked in to the Seaquarium's mostly empty parking lot, and saw a security guard in a golf cart. I was pretty sure she noticed my "Free Lolita" t-shirt. I decided to walk up to the ticket counter to see how much they were charging to get in ($45). I noticed this security guard had followed me up near the entrance. She said, in a voice loud enough for me to hear, "The Miami-Dade Police are hear already? Okay."
I saw another protester and went to join him on the sidewalk in front of the entrance. He informed me that because the parking lot was considered private property, I could have been arrested for trespassing. Imagine being arrested at my first protest before it even started!
At this point, the Miami-Dade Police Officer on duty approached us. He told us we could be as loud as we want, but his only request is that we not impede traffic. I was surprised how nice and supportive he was. I was prepared for some hostility but there was none. I don't know if he supports our cause, but he certainly supports our right to protest.
I picked up the sign "Honk for Whales" and found a shady spot in which to stand. I was determined to have drivers along the Rickenbacker Causeway honk to show their support!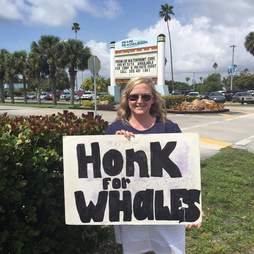 Photo: Animal Activists Network
Most of the other protesters were right where cars turn in to the entrance, trying to talk them out of going in to the Seaquarium. There were two protesters that had bullhorns. One was speaking in English, and the other was speaking in both Spanish and English to educate people on the cruel nature of captivity. I really admired the bravado of these people. Standing up for what you believe is hard work in the hot Miami sun.
In the end, we definitely made an impact. Several people who intended to go to the Seaquarium ended up changing their minds and turning around. I did count three people giving us "the bird" and one thumbs-down, but the overwhelming majority gave us thumbs-up and honks of support. Even some of the bikers riding by said, "Honk! Honk!" I hope that people driving by will look in to what all the commotion was about - and will decide never to put a penny in the pocket of the Seaquaruim.
Activism is my rent for living on the planet.
- Alice Walker
Whether you physically protest at a place like the Miami Seaquarium, or online on Twitter or Facebook, or even by speaking up when you overhear someone at a party mentioning their plans to swim with dolphins on their next vacation, you are making a difference. You're taking a stand for what you believe in. And you can do it in your own way: gently, politely, firmly.
I highly recommend seeking out opportunities to get involved in issues you care about while you're on vacation. It's a great way to meet other animal warriors. If you go to a beach, bring a bag with you to collect trash you find. You could save the life of a sea turtle by doing so. Visit animal sanctuaries, donating what you can, and sharing your experience on social media. Vote with your wallet and support eco-tourism activities rather than captivity-based businesses like zoos and aquariums.
The tide is turning on businesses that exploit animals. Your voice (and your wallet) are a big part of that.