Mexico City Bans Animals In Circuses, Will The U.S. Follow?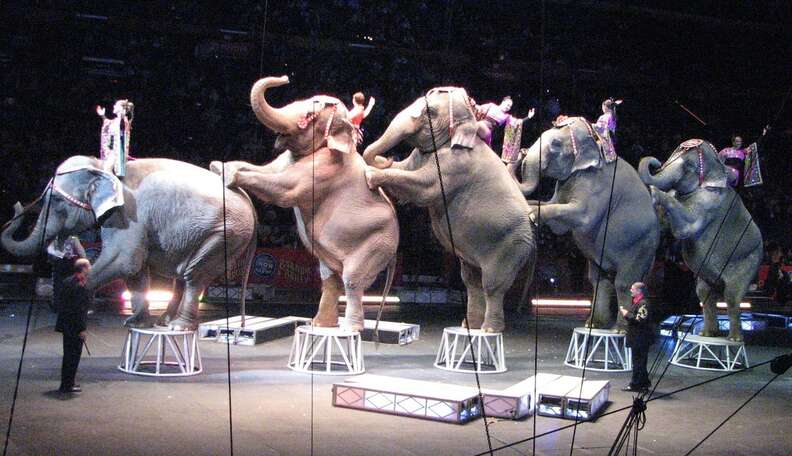 In a historic vote yesterday representing a significant step towards more ethical treatment of non-human beings, politicians in Mexico City voted to outlaw the use of animals in circuses -- joining a growing number of states and municipalities around the world to do so.
Under the new ban, circuses have one year to phase out animals in their shows, after which they risk fines of up to $70,000. Jesus Sesma, one lawmaker who pushed for the measure, says it will promote "a respect for living beings who are not human."
The law was passed nearly unanimously, with 41 legislators in support, 11 abstaining, and none voting against it. Not everyone, however, was pleased to see the measure approved. According to the Washington Post, Stephen Payne, a representative from Feld Entertainment, parent company to Ringling Bros., was on hand in Mexico City, presumably to lobby against its passage.
"If their goal is animal welfare improvements, regulate them," said Payne. "Otherwise you're just driving these circuses to look for venues outside the federal district."
But circus operators throughout Mexico are finding fewer and fewer places to profit from the exploitation of animals. So far, six states have enacted similar bans on such circuses -- and that number that is likely to grow, particularly now that the nation's capital has moved to make them illegal.
More than 35 countries around the globe have in place either nationwide or local bans restricting the use of animals in circuses. In the U.S., Representative Jim Moran of Virginia recently reintroduced the Traveling Exotic Animal Protection Act to Congress, aiming to end the "inhumane" treatment of animals for entertainment across the nation.
There is nothing fun or amusing about circuses that exploit animals. Performance animals, like elephants, are routinely subjected lives of intimidation and abuse at the hands of their keepers. Join us in pledging to not support circuses that us animals as props for entertainment.
[rebelmouse-campaign #StopAnimalCircuses target=1000 increment=500 twitter_share_message="Join me in pledging to not support circuses that exploit animals for entertainment. #StopAnimalCircuses" call="**Sign this petition** or share on Facebook, Twitter and Instagram with **#StopAnimalCircuses**" theme=dodo]